Mayors of Pittsburgh and Paris pen joint op-ed in support of the Paris climate agreement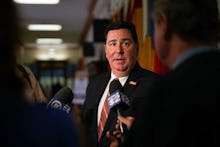 On June 1, President Donald Trump announced that the United States would withdraw from the Paris climate agreement.
During an address delivered in the White House Rose Garden, Trump said, "In order to fulfill my solemn duty to protect America and its citizens, the United States will withdraw from the Paris climate accord." He added that he was elected to "represent the citizens of Pittsburgh, not Paris."
Immediately following the statement, Pittsburgh's mayor, Democrat Bill Peduto, took to Twitter to announce his commitment the agreement, regardless of the president's actions.
"As the Mayor of Pittsburgh, I can assure you that we will follow the guidelines of the Paris agreement for our people our economy and future," Peduto stated.
Moreover, Peduto shared a statistic explaining that Pittsburgh overwhelming voted for Hillary Clinton in the presidential election.
And on Wednesday, Peduto once again reaffirmed his position on the agreement by releasing an op-ed in the New York Times co-authored with the mayor of Paris, Anne Hidalgo.
"As the mayors of Pittsburgh and Paris, we're here to say that we're more united than ever," the duo stated in their piece. Peduto goes on to explain that while the people of Pittsburgh are proud of their industrial heritage, they are ready for something new. "That means addressing our air quality, which remains among the worst in the nation," he wrote. "That means ensuring that the shift to sustainable infrastructure tackles inequality between communities. And that means taking climate change seriously."
For her part, Mayor Hidalgo explained that the City of Lights is preparing for a cleaner future to help "boost our economy, encourage social mobility and improve the health of our citizens."
Both noted how they are members of the Global Covenant of Mayors for Climate and Energy, which represents more than 7,400 cities around the world that remain committed to the Paris climate agreement's goals.
"As Mayor of Pittsburgh, I was elected to represent the citizens of Pittsburgh, not Paris," Peduto said. "As Mayor of Paris, I was elected to represent the citizens of Paris, not Pittsburgh," Hidalgo added. The political leaders ended their joint op-ed by noting that the only way to do right by citizens of both cities is to abide by the agreement to guarantee "the future health and prosperity of both of our cities — and every other city in the world."