Senator Kamala Harris told to be "courteous" by male colleagues during intelligence hearing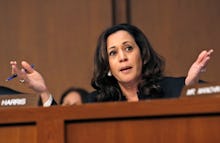 On Wednesday, during a particularly heated Senate Intelligence Committee hearing just 24 hours before former FBI Director James Comey takes his own turn in the hot seat, Sen. Kamala Harris (D-Calif.) was publicly interrupted by her male committee members on two occasions.
While questioning Deputy Attorney General Rod Rosenstein over Russia's alleged involvement in the 2016 presidential campaign, Harris asked if Rosenstein would agree to sign a letter giving special counsel Robert Mueller full independence from the Justice Department in his probe, according to CNN.
Rosenstein began to sidestep with his answer, saying, "Senator, I'm very sensitive about time and I'd like to have a very lengthy conversation and explain that all to you." However, Senator Harris quickly jumped in to ask, "Could you give me a yes or no answer, please?"
At this point, Sen. John McCain (R-Ariz.) cut off Harris, telling committee Chairman Richard Burr, "Mr. Chairman, they should be allowed to answer the question."
But without skipping a beat, Harris persisted, asking, "Are you willing or are you not willing to give him the authority to be fully independent of your ability, statutorily or legally, to fire him?" Rosenstein once again began to dodge the question before Harris again asked, "Yes or no, sir?"
However, before she could finish her statement, Burr stepped in and tersely commanded the first-term senator, who is also the only woman of color on the committee, to "suspend" her question.
"The chair is going to exercise its right to allow the witnesses to answer the question, and the committee is on notice to provide the witnesses the courtesy, which has not been extended all the way across, extend the courtesy for questions to get answered," Burr said, according to CNN.
The incident did not go unnoticed by social media users and fellow politicians, who were quick to jump to Harris' defense.
As Sen. Elizabeth Warren (D-Mass.), who has experienced her fair share of interruptions, tweeted: "Silencing @SenKamalaHarris for not being 'courteous' enough is just unbelievable. Keep fighting, Kamala!"
Unfortunately, Harris never got the yes-or-no answer she was looking for before Burr moved on with the questioning and handed the floor over to the next senator on the panel.