'Tekken 7' Nina Combos: Learn to be a pro while playing as the Irish assassin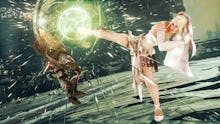 Have you chosen your favorite fighter in Tekken 7 yet? If not, there's a wide breath of characters to choose from, especially if you've been playing all the latest installments of the game since its inception. Or maybe you've already chosen your favorite character, but still need help figuring things out even after perusing our beginner's guide. 
You're in luck, especially if you've found yourself settling on a certain assassin named Nina Williams. As awesome as she is, you may find learning her important moves and combos are trickier than you originally thought. That's why we've got helpful tricks you can use to kick butt as Nina from now on, whether you're playing against AI or real human players. 
Tekken 7 Nina combos: How to land combos as the deadly assassin
Nina, like a glut of the other combatants in Tekken 7, requires practice before you can truly start seeing returns. If you're dead set on maining her, you'll want to spend some time doing just that in the game's practice mode or against friends willing to let you test out some moves. 
While doing so, consult Tekken Zaibatsu's handy move list for Nina. That way you can visualize what kinds of moves you want to use and see their combos while trying them. It's also handy to keep a list of them open while practicing so you can see what you're learning.
With all those combos to take inventory of and a video with which to watch it all come together, you should be well-equipped to rock Nina with confidence going forward. You may even be ready to cross paths with the Mic staff at some point! Happy sparring! 
More Tekken 7 tips, tricks and news
Ready to take your Tekken 7 game to the next level? Check out our official review, along with a piece arguing that Tekken 7 is a terrible introduction to fighting games. Then read up on the full character roster, tier list rankings, how to unlock every fighter and some juicy DLC rumors.