Kamala Harris' questioning in the Comey hearing was an opportunity to break out and she slayed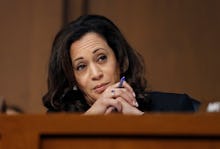 Senator Kamala Harris will not be silenced.
A day after the freshman California senator made headlines for Senate Intelligence Committee Chairman Richard Burr's attempts to cut off her line of questioning at Wednesday's Senator Intelligence Committee hearing, Harris again made headlines for her no-nonsense approach to getting answers.
First, she started off with one of the hearing's rare moments of levity, offering a joke about her and Comey's time as prosecutors. "When a robber holds a gun to your head and says, 'I hope you'll give me your wallet,' 'hope' is not the operative word."
But after that moment of levity, Harris asked what many are describing as the most pointed questions of the hearing. "Are there other meetings or key communications between Trump administration officials and Russians that have been to date undisclosed?" Harris asked in a series of rapid-fire questions that Comey mostly declined to answer.
Harris is still in her first year on Capitol Hill, but she's already made plenty of headlines. She aggressively questioned nominees to Donald Trump's presidential Cabinet, such as now-CIA Director Mike Pompeo, and challenged now-Homeland Security Secretary Gen. John Kelly on immigration.
She's fast establishing herself as an outspoken voice among Democrats. And Twitter is loving it.
Harris may be new to the Senate, but she's clearly not new to this game.