'Tekken 7' Cheat Engine: How to get infinite health and more cash with this trainer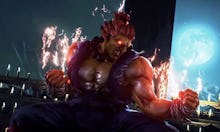 Tekken 7 has barely been out long enough for anyone to have mastered it, but there are already plenty of cheaters out there. Such is the case for so many video games. If there's a way to cheat, players will find it, and many PC players turn to Cheat Engine for an added edge. Tekken 7 hasn't been out long enough to have a lot of Cheat Engine documentation, but there's an alternative: a free cheat trainer that you can download right now (at your own risk) to offer several augments to your Tekken game. 
Tekken 7 Cheat Engine alternative: Mr. Antifun's cheat trainer
Internet denizen Mr. Antifun has put together a cheat trainer that offers three cheats: infinite health, plenty of money, and time freeze. You can buy tons of new accessories with the money and deck out your characters, beef up your health so you'll never have to suffer a crushing defeat, and so on. If you're not so great at Tekken 7 or just want some extra resources to play around and have fun, you can utilize these cheats by downloading the free trainer via the Mr. Antifun page, according to One Angry Gamer.
The free trainer is available to download right now from over on the Mr. Antifun page. You know, if you're interested in cheating. Cheaters never prosper, remember! Why not try out some of our tips and tricks to improve your game if you're trying to feel like a millionaire when playing your favorite fighter? 
More gaming news and updates
Check out the latest from Mic, like this essay about the sinister, subtle evils lurking in rural America that Far Cry 5 shouldn't ignore. Also, be sure to read our review of Tekken 7, an article about the influence of D.Va on one Overwatch player's ideas about femininity and an analysis of gaming's racist habit of darkening villains' skin tones.