British Election Results: Exit polls show hung parliament in UK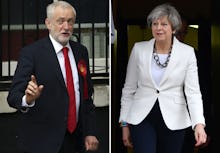 Early exit polls from the U.K. released late Thursday indicated that Prime Minister Theresa May's choice to call snap elections in order to shore up her Conservative party's majority heading into Brexit negotiations may have backfired.
Though the full results won't be known for some time, exit polls showed May's Tories finishing the election with 314 seats, the same number as Labour, the Scottish National Party and the Liberal Democrats, potentially resulting in a hung parliament.
Before Brits headed to the voting booth for the fourth national election in three years on Thursday, most polls showed the Conservatives with a slight lead over Labour, led by Jeremy Corbyn.
British polling firm ICM Unlimited showed Conservatives with the biggest lead, 12 points. ComRes, meanwhile, showed the Tories with a 10-point lead, ORB International with nine, Ipsos MORI with eight, Opinium and YouGov with seven, and Survation with the Tories leading by only two points.
On the high end, Conservatives were projected to gain as many as 74 seats, the largest Tory majority in parliament since the days of Margaret Thatcher, according to the Independent. But more-conservative estimates, like that conducted by Electoral Calculus, showed the Tories were more likely to pick up fewer than 30 seats, while Labour was likely to lose around a dozen. Those results appear to have been far off.
In the days leading up to the election, Labour narrowed a significant Tory lead.
In part, the Tories' slide in the polls was due to reports that Theresa May was considering replacing the U.K.'s so-called "triple lock" pension system, which "locks" pension payment increases to average earnings growth, inflation or 2.5%, whichever is highest, with a less generous "double-lock" system. May later abandoned that idea in the face of criticism.
The election was also upended by two terrorists attacks: one in Manchester in May and another in London less than a week before the election. Never before had Britain experienced a terror attack during an election — let alone two — and both Conservatives and Labour agreed to suspend campaigning after both events.
In the wake of the attacks, May called for the U.K. to change human rights laws to make it easier to deport those suspected of having ties to terrorists, while Corbyn tried to make inroads against May on security, accusing her of trying to "protect the public on the cheap."
May called for a snap election in April after saying she would not. May said she wanted her party to have a stronger majority, and thus a clearer mandate, going into Brexit negotiations.
Britain voted to leave the European Union in June 2016.