Solange celebrates New Orleans Confederate statue takedown: "Where ya ass is at Robert?"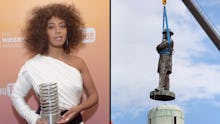 She searched high and low. Grammy-nominated singer Solange Knowles couldn't find a statue of Confederate Gen. Robert E. Lee in her adopted hometown of New Orleans.
Cranes had already been stretched into the sky to take down the Lee statue and three other Confederate monuments that, until May 19, cast the dark shadow of racism and white supremacy over the Big Easy. Knowles gleefully celebrated the monuments removal via an Instagram story on Thursday.
"Mood: what's good Robert?" the "Cranes in the Sky" singer wrote in the caption of a selfie taken in front of a statue-less column at New Orleans' Lee Circle.
"Where ya ass is at Robert?" Knowles chided in another photo.
The statues came down after a nearly two-year-long effort by city officials. They were answering nationwide calls to banish Confederate-era symbology from public places, in the wake of the historically tragic hate murders of nine black churchgoers in Charleston, South Carolina.
Mayor Mitch Landrieu marked the removal of New Orleans' Confederate monuments in a widely praised speech, urging New Orleanians and all Americans to get real about the "lost causes" of the Confederacy.
"All white supremacy monuments must go," Knowles wrote in a third Instagram photo. "Issa fire sale."
In a final photo, Knowles issued a warning to people who might be put off by how outspoken she is on the topic.
"Lastly, it's not possible to work with me and separate the politics of my album. Listen, before applying," the singer wrote in the caption.