'Super Mario Odyssey' Gameplay Demo: Canada gets early access to the Nintendo Switch title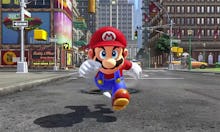 Super Mario Odyssey is an important future fixture of the Nintendo Switch's library. It's the first proper Mario game set to touch down on the new console, and as such it's a hotly anticipated title among Switch owners. With the beginning of E3 next week in Los Angeles, it's about time for us to start seeing and hearing more about the game. If you're not attending E3 and live in Canada, though, you might be able to see and try the game ahead of other diehard Mario fans by heading out to special early access events. Nintendo will be hosting kiosks where a select few will be able to test the game for the first time. 
Super Mario Odyssey E3 2017: How to try the gameplay demo early
If you live near Erin Mills Town Center in Mississauga, Ontario, or at Metropolis at Metrotown in Burnaby, British Columbia, you're in luck. If you can get to either location early enough and register ahead of time, you might be able to grab a time slot to play Super Mario Odyssey early. Nintendo has suggested that you get there as early as possible to secure a time slot. Everyone gets a single slot, and they're limited as it is. You won't be able to play the game the same day as you register, however. The time slots you sign up for will be scattered from Tuesday to Thursday.
If you can make it out there and have preordered Arms, Super Mario Odyssey, or Splatoon 2, make sure you take your receipt or proof of purchase. You'll get a Mario Universe Challenge Coin and will be entered in a drawing for credit to snag a whole bunch of additional Nintendo goodies. 
Find out further details on Nintendo's official site, where you can snag all the info you need if you're going to be in the area. Unfortunately, we still won't be seeing an official release for Super Mario Odyssey for some time. Super Mario Odyssey isn't due out until the end of the year, so getting this early of a look will no doubt be a boon for fans.
More gaming news and updates
Check out more video game content on Mic, including which Pokémon are actually the best and why black players can never seem to get custom characters that look like them. Learn more about how blind gamers are getting in on the fun and don't miss our guide to dodging blue shells in Mario Kart 8 Deluxe — you can thank us later.