Does 'ESO Morrowind' include all DLC?: How to get previous 'Elder Scrolls Online' content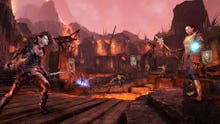 The Elder Scrolls Online: Morrowind is a great reason to return to ESO, even if you're not completely sold on the idea of MMORPGs. If you enjoy the Elder Scrolls games, you'll definitely want to travel back by way of this new release. However, it's worth keeping in mind this isn't the first DLC release for ESO. If you're planning on getting into the game for the first time by picking up the Morrowind expansion, here's how getting all of the rest of the content will work. 
The Elder Scrolls Online: Morrowind: Understanding each edition 
There are several editions you can choose from. If you already own a copy of The Elder Scrolls Online, you can purchase the Morrowind Upgrade for $39.99, which is the simple, vanilla expansion for Morrowind. That will get you everything included with the Morrowind storyline, and you can get started playing from there. It only includes the Morrowind expansion, however, so if you're looking to buy the previous DLC for your game, you'll have to get that separately. 
If you want the Morrowind expansion and extra goodies pertaining to that chapter of the game, you can choose the Physical Collector's Edition or the Digital Collector's Edition with goodies like a gray War Bear companion, Armored War Horse mount, Dwarven Spider pet, Morag Tong equipment converter, and more. 
An easy way to get started (and get all the previous DLC) is by purchasing the Gold Edition of The Elder Scrolls Online, which contains The Imperial City, Orsinium, Thieves Guild, Dark Brotherhood and Shadows of the Hist as well as the "Guilds of Glory" DLC package. Then you can purchase the vanilla Morrowind upgrade from there for $39.99. This should be the swiftest and easiest road to playing the game regularly, and it shouldn't set you back more than a newly-released video game. 
More gaming news and updates
Check out more video game content on Mic, including which Pokémon are actually the best and why black players can never seem to get custom characters that look like them. Learn more about how blind gamers are getting in on the fun and don't miss our guide to dodging blue shells in Mario Kart 8 Deluxe — you can thank us later.