Pulse nightclub: Mourners and activists call for action 1 year after the Orlando shooting.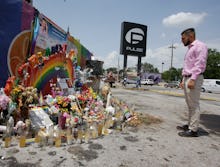 The deadliest U.S. terror attack since 9/11 happened 364 days ago at a gay nightclub in Orlando, Florida.
On Sunday and Monday, LGBTQ marches and rallies taking place around the country are paying homage to the 49 people who were killed in the Pulse nightclub massacre.
Some of the survivors are scheduled to speak Sunday afternoon at the Equality March for Unity and Pride in Washington, D.C., one of dozens of simultaneous rallies taking place around the nation that will hold commemorative ceremonies honoring the Pulse victims.
Organizers say the rallies are also a national call to political action that D.C. march co-chair Sean Coleman tells Mic aims to prevent future Orlando-like violence against the LGBTQ community.
"For me, the Orlando tragedy was the motivator to continue to speak up against inequality wherever it reared its head," Coleman said during a Friday phone interview, "whether that was within the LGBT community or with politicians that continue to set us back."
Remembering Orlando
Hannah Willard, public policy director for Equality Florida, the state's largest LGBTQ advocacy organization, is helping organize two commemorative ceremonies on Monday, the official one-year anniversary of the Orlando shooting.
The first is an 11 a.m. Eastern Reflections and Remembrance vigil at Pulse, which will be followed by a Remembering Our Angels ceremony at the nearby Lake Eola Park, where last year thousands of mourners holding lit candles rose to their feet as recording artist Andra Day sang an emotional rendition of her Grammy nominated hit, "Rise Up."
"It was a really powerful moment to feel," Willard recalled, "not just for the people at the vigil to rise up, but also the people of Orlando rising up and having their own coming-out moment in the wake of Pulse."
Call to action
Willard and other activists are calling for more pro-LGBTQ political change, not just tears and well wishes, in the wake of the Orlando shooting anniversary.
In Florida, Gov. Rick Scott has been criticized for ignoring pleas to issue an executive order making LGBTQ people a protected class, even in the wake of the Orlando massacre.
In May, Republican lawmakers in the state House of Representatives blocked the pro-LGBTQ Competitive Workforce Act from receiving a House floor vote. The proposed law would prohibit employment, housing, and public-space discrimination against LGBTQ people throughout the state. The state House's legislative session ended May 5 and won't start again until March of 2018.
"We'll have to go back at it next year," said Willard, whose lobbying lawmakers on the bill. "We have to make sure this is a national turning point that spurs us to new action."
At the national level, Republicans in Congress have opposed gun control reform measures and the Trump administration has appointed an anti-LGBTQ head of the Health and Human Services civil rights division.
The Trump administration also has removed LGBTQ-identifying questions from two HHS national surveys, which advocates tell Mic could result in LGBTQ community members receiving less federal aid and benefits.
"Without this critical data, how can the federal government know how many LGBTQ people exist?" National LGBTQ Task Force spokesman Jorge Amaro said. "Without that number — critical funding that is needed for some of the most vulnerable populations in our country — how can they allot those funds and resources?"