'Arms' Nintendo Switch game review roundup: A lot of personality, but lacking in content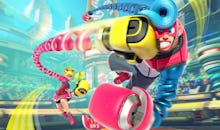 Nintendo's Arms is already causing quite a stir in the gaming world. One of Nintendo's newest IPs is about to land on the Switch on June 16. Reviews are already flooding the internet as the embargo has lifted, so if you're on the fence about whether or not it's for you, you can check out quite a few for what seems like a mixture of positive and middling reviews. 
It doesn't appear to have opened to the overwhelming amount of praise some other aspects of the game (like Twintelle) have. If you're not sure if you should go ahead and lock that pre-order in, we've got a roundup of some of the reviews to help aid you in making a purchasing decision. 
Arms Reviews: Review round-up
Some critics were head over heels with the quirky new Nintendo brawler, while others weren't as impressed. 
Chris Schilling of GamesRadar+ had nothing but good things to say about Arms, calling it "accessible" and "captivatingly strange." His mostly positive review labeled Arms as "another Nintendo knockout for Switch." Schilling scores the game four and a half out of five stars in his review. 
IGN's Brendan Graeber praised Arms for its "clever take on boxing" and its ability to keep him playing long enough for "just one more match." Graeber scored the game an eight out of 10 in his review. 
Polygon's Michael McWhertor called Arms' gameplay mechanics "inventive" and the game overall a "smart use of the Switch hardware." McWhertor scored the game and eight out of 10 in his review. 
GameSpot's Kallie Plagge also had kind words for Arms' "unique" take on fighting, noting that it's difficult to adjust to at first, but once you're acclimated it's a surprisingly deep fighter that has you thinking on your feet. Plagge scored the game a seven out of 10 in her review. 
Destructoid's Chris Carter stated that there was a "lot of personality on the surface" of Arms and praised its theme song, but was disappointed that there wasn't more to do, "both pragmatically in terms of modes and on an emotional level." Carter scored the game a seven out of 10 in his review. 
USgamer's Caty McCarthy was seemingly disappointed with Arms' lack of content and the idea that its "core game simply doesn't have enough variety among its many arms and fighters to keep the experience feeling fresh for long." McCarthy scored the game three stars out of five. 
Arms Reviews: The Bottom Line 
Arms has received a smattering of different scores across the board, but fans won't get to see for themselves how the entire game fares until it hits store shelves on June 16.  We'll make sure to let you know what we think of the game soon as well. Until then, be sure to check out our continuing Arms coverage.
More gaming news and updates
Check out more video game content on Mic, including which Pokémon are actually the best and why black players can never seem to get custom characters that look like them. Learn more about how blind gamers are getting in on the fun and don't miss our guide to dodging blue shells in Mario Kart 8 Deluxe — you can thank us later.