Nintendo Switch Bubsy: Will the new game come to the console?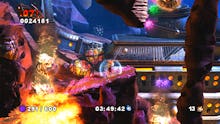 Bubsy the Bobcat is coming back to the world of the living (living video game mascots, at least) and starring in a brand new game. Bubsy: The Woolies Strike Back is poised for a fall release on both PlayStation 4 and PC. But what about one of the most obvious consoles for Bubsy to land on, perfect for platform-era and portable gaming? Could Bubsy: The Woolies Strike Back come to the Nintendo Switch? Let's examine the possibilities.
Bubsy Nintendo Switch: Possible Switch port?
Black Forest Games, the developer responsible for bringing Bubsy back after a 21-year hiatus, was also behind Giana Sisters: Twisted Dreams. It was an excellent, fast-paced platformer with plenty of challenge and gorgeous graphics that found you controlling the Giana Sisters and warping the world around them to solve various puzzles. 
Originally funded via Kickstarter after meeting its goal of $150,000, it was released on Xbox Live Arcade, PlayStation Network and Nintendo eShop for Wii U. It has yet to be released on the Switch as a port, but the idea that Black Forest Games' previous effort (a great game, at that) made it to the Wii U, it's not out of the realm of possibility that if this Bubsy game sells well, we could see it come to the Nintendo Switch. This is just conjecture at this point, but it's worth thinking about for now. We'll have to see how the Bubsy revival does when it releases this fall first. 
More gaming news and updates
Check out more video game content on Mic, including which Pokémon are actually the best and why black players can never seem to get custom characters that look like them. Learn more about how blind gamers are getting in on the fun and don't miss our guide to dodging blue shells in Mario Kart 8 Deluxe — you can thank us later.