Bald men warned to stay safe following ritualistic attacks in Mozambique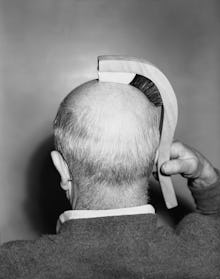 Bald men are being hunted down and killed in Mozambique over the belief that their heads contain gold, NPR reported. Five men have been killed, according to NPR, all in central Mozambique.
"Last month, the murders of two bald people led to the arrest of two suspects," national police spokesman Inacio Dina said in a news conference in the country's capital of Maputo. Their motives, he added, likely came from the superstition and cultural belief that bald men are rich.
One of the victims was found "with his head cut off and his organs removed," Miguel Caetano, a spokesman for the security forces in the central province of Zambezia said.
The two suspects who were arrested are around 20 years old, according to the Guardian. In their statements the men claimed the organs were going to be used by healers to promote the fortunes of clients in neighboring countries.
The murders of bald men in Mozambique are reminiscent of the ritualistic killings of hundreds of people with albinism in the area, the Telegraph noted.
"People with albinism, from cradle to grave, are hunted and their body parts are wanted — everything from their heads to their toes, their hair, their nails and even their feces are collected," Ikponwosa Ero, a United Nations independent expert on human rights for persons with albinism, said in a 2016 post. "Real fear therefore exists among persons with albinism across the country, particularly in provinces with reported attacks."
Albinism, as with the case of bald men, has long caused erroneous beliefs and myths, "such as one that potions or amulets made from the body parts of people with albinism have magical powers."
To help mitigate the fear of attacks, NPR reported that some bald men are choosing to cover up with hats while others are simply staying indoors.