An estimated 20 million people watched James Comey's testimony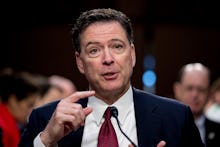 On Thursday, an estimated 20 million people tuned in to watch former FBI Director James Comey testify before the Senate Intelligence Committee, according to Nielsen data provided to the Los Angeles Times. And that accounts only for television viewership.
According to CNN, its online viewership peaked at 11:35 a.m. Eastern, with 767,000 simultaneous views. The network added that its online stream had nearly 4 million starts, the L.A. Times reported.
The testimony, the L.A. Times noted, was so sensational and closely followed that even the four major networks — ABC, CBS, NBC and Fox — chose to air an event typically reserved for cable news outlets. ABC won out on the Comey ratings war with 3.295 million viewers, while CBS came in a close second with 3.286 million viewers.
And the coverage didn't just air in American living rooms. As , reported, bars across the U.S. also hosted "watch parties," which helped the event become known as the "Super Bowl of Washington."
The Union Pub in Washington, D.C., even offered to buy a round of drinks for everyone in the bar every time President Donald Trump tweeted about the testimony, Reuters reported. Sadly for patrons of the establishment, the Twitter-loving POTUS stayed off social media for the entire event.