Jeff Sessions Hearing: What to know before the attorney general's Tuesday testimony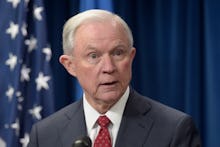 The ongoing scrutiny of Attorney General Jeff Sessions is about to get even more intense.
The embattled administrative chief on Saturday announced he will testify Tuesday before the Senate Intelligence Committee as it continues its investigation into the Trump administration's alleged collusion with Russia during the 2016 election.
Sessions himself has been under fire for multiple reasons ever since he was announced as President Donald Trump's choice to lead the U.S. Department of Justice.
Congressional Black Caucus members Corey Booker and John Lewis testified against the former Alabama senator on Jan. 11 for his alleged racist attempts to suppress voting rights of black people in the state he served back in 1984.
The very next day, child sex abuse survivor and advocate Amita Swadhin lectured Sessions on the meaning of the term "sexual assault" after Sessions told the Weekly Standard in October that he wasn't sure the pussy grabbing then-candidate Trump was recorded discussing could be characterized as such.
He's been accused of perjury and has enraged his boss less than six months into his tenure as the nation's top law enforcement official.
Calls for him to resign are growing louder among Democrats as his Republican colleagues remain largely silent in backing him. All this serves as the backdrop as Sessions takes center-stage once again Tuesday.
Here's what else you need to know prior to his testimony.
Sessions' hearing will "probably" be behind closed doors
Or at least that's what a Justice Department official told the Washington Post on Saturday.
Sessions scrapped his original plans to testify before House and Senate appropriations subcommittees about the Justice Department's budget after James Comey testified Thursday that the FBI had information about the attorney general that would have made his involvement in any Trump Russia investigation "problematic."
There's no official word yet on whether the hearings will be private or public, but the intelligence committee previously allowed National Security Agency director Michael Rogers and National Intelligence director Daniel Coats to testify privately to avoid releasing classified details to the public.
The ACLU expressed concerns about Sessions' ability to testify behind closed doors.
"There is absolutely no reason why the hearing room doors should be shut, cameras turned off, and all American citizens left in the dark when Sessions testifies," Christopher Anders, deputy director of the ACLU Washington Legislative Office, said in a statement Sunday, according to The Hill.
Sessions talked with the Russians during the campaign
Sessions previously recused himself from all Trump Russia-related Justice Department investigations after it was revealed he met with Russian Ambassador to the U.S. Sergey Kislyak on two separate occasions during the 2016 campaign.
Sessions didn't tell Congress about the meetings during his confirmation hearings in January, and he omitted that information while filling out federal security clearance forms for his current job.
Trump was reportedly furious about Sessions' recusal. The attorney general even offered to resign during heated exchanges with the president in recent weeks.
Sessions still has his own legal problems
Legal experts say the attorney general probably didn't perjure himself by omitting to tell lawmakers about his meetings with Kislyak during their January confirmation hearings.
Omitting that information on a security clearance document, on the other hand, is technically a federal crime, which is why several lawmakers have called for Sessions' resignation.
Justice Department spokesman Ian Prior said in a written statement that the former Alabama senator was following the advice of staff members and the FBI investigator handling his background check when Sessions chose not to disclose his Kislyak meetings on the clearance forms, which he submitted in July and November, according to the New York Times.