Cuphead release date, new trailer and gameplay revealed at Microsoft's E3 2017 event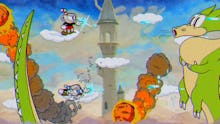 It's been quite some time since we've heard about the upcoming cartoon-inspired Cuphead, Studio MDHR's love-letter to the golden age of animation, but during Microsoft's E3 2017 conference we were finally privy to a trailer, gameplay and release date info.
Cuphead showed off the excellent animation style we've come to know so well during the release of several intriguing trailers. The run-and-gun platformer may take its cues from 1930s cartoons, but it's fully mired in modern convention, especially as it will finally be touching down on the Xbox One.  
For the uninitiated, it's a surrealist game where players take up the role as the title player, who loses a bet with the devil and spends the rest of the game trying to make things right. While Cuphead himself has infinite lives and several different abilities, you'll need to keep your wits about you.
Cuphead launches on Sept. 29 for $19.99 with pre-orders available now.
More news from Microsoft E3 2017
Check out more of our coverage from the Microsoft E3 2017 press conference, including info on the new Xbox One X, Playerunknown's Battleground Xbox reveal, Forza Motorsports 7's gorgeous new trailer and the Metro Exodus announcement. BioWare's Anthem reveal definitely stole the show. But don't miss out on Sea of Thieves, State of Decay 2, Crackdown 3 and Tacoma, either.