E3 2017: Xbox One X price, release date, pre-order and Scorpio real name announced by Microsoft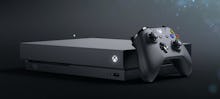 Microsoft's latest console finally has a permanent name: Xbox One X. The Xbox One X got a full reveal at Microsoft's E3 Conference, and we finally have the details we've been waiting for. Here's everything we know so far about the Xbox One X.
The system is a massive powerhouse and will feature 8 million pixels with 4K UHD Blu-ray playback. It will ship with 6 teraflops of power, which is more than the PlayStation 4 Pro's 4.2 teraflops, with a custom GPU engine running at 1172MHz. This is, as Microsoft states, the fastest and most advanced system to ever power a console. It will be compatible with all Xbox One accessories and games.
According to Microsoft, the Xbox One X is the smallest Xbox that's been created thus far, barely larger than an Xbox One controller at that, demonstrated with several screenshots during the show. In terms of aesthetic, it looks very close to the Xbox One S, if not a little sleeker.
Xbox One X launches on Nov. 7 worldwide for $499.
More news from Microsoft E3 2017
Check out more of our coverage from the Microsoft E3 2017 press conference, including info on the new Xbox One X, Playerunknown's Battleground Xbox reveal, Forza Motorsports 7's gorgeous new trailer and the Metro Exodus announcement. BioWare's Anthem reveal definitely stole the show. But don't miss out on Sea of Thieves, State of Decay 2, Crackdown 3 and Tacoma, either.