'Skyrim' Nintendo Switch: Trailer showcases exclusive functionality at Bethesda E3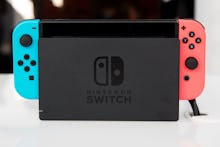 Bethesda offered a fresh look at Skyrim for Nintendo Switch at sits E3 2017 presentation, confirming that amiibo support will extend to the new game.
Skyrim for Switch has a bunch of interesting details in the mix, including amiibo compatibility. Who knew that it would be possible to dress up like Link and find the master sword in a treasure chest, maybe even somewhere in Whiterun? The trailer even appears to show motion control that allows you to control your character in combat, at the very least.
As of right now we don't have a firm release date for The Elder Scrolls V: Skyrim on Nintendo Switch. There is a Nintendo product page that lists release as "fall 2017," and Pete Hines said every game shown would debut before the end of the year, so we could see it anytime between now and Dec. 31.
More news from Bethesda BE3 2017
Check out more of our coverage from the Bethesda BE3 conference, including a look at what's coming for Elder Scrolls Legends and Dishonored 2. We've even got a look at the new VR experiences for Doom and Fallout 4. But if you really want to be blown away, make sure you check out The Evil Within 2 and Wolfenstein 2: The New Colossus.