Where Ann Taylor, Dress Barn, Lane Bryant and Loft store locations may be closing across the US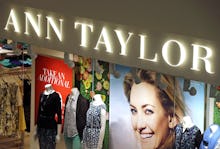 Before you head to the store, be sure your favorite location is still open. The number of United States retailers closing brick-and-mortar locations continues to rise as places like Ann Taylor, Dress Barn, Loft, Lane Bryant, Justice and more join others — like Macy's, JCPenney and Kmart — in shuttering their doors, as CNN Money reported.
Ascena Retail Group, the struggling parent company that owns Ann Taylor, Loft and the like, announced during a conference call Thursday that up to 657 locations will close over the next two years — or about a quarter of all stores, per the New York Post. Echoing management at other retailers, CEO David Jaffe attributed the impending closures to a decline in consistent store traffic.
Ann Taylor currently has 195 stores in 36 states, with Texas, California and Florida having the most locations. Though no formal announcement has been made about which ones will close, you can contact your nearest shop to ask if the store will stay open. Meanwhile, Loft has 501 locations in the U.S., and you can look here to find specific shops near you. Lane Bryant has 700 U.S. locations; use this handy locator here to find your store.
Dress Barn's footprint is even larger, with more than 800 locations across 14 states and Washington, D.C. Go here to find the phone number for your favorite store to inquire about any potential plans to close. And, with more than 1,000 U.S. shops, Justice also offers a store location tool to help you find out which stores will remain open in your area.
"Retail is undergoing a major transformation," National Retail Federation senior director of media relations Ana Serafin Smith told Mic in an email. "The retail industry is adapting to changes in consumer preferences, behavior and technology — as it has continually throughout its entire history."
Store "overbuilding" has occurred over the past eight years, Serafin Smith explained, and many store closings are a function of real estate investments that don't have the underlying economic activity to support them.
Other retailers to join the ranks in 2017 include Michael Kors — which will shutter more than 100 stores — and Payless Shoe Source, which is planning a second wave of closures after filing for bankruptcy protection in March. That same month, GameStop announced plans to close 100 locations.
Now, while it may seem like physical U.S. retailers are all but disappearing, "the projected store closings for 2017 — up to 8,000, at the high end of estimates — represent a very small share of the over 1 million retail establishments in the U.S.," Serafin Smith said. "Even if 65,000 stores closed this year, over 1 million would still be open."
That said, shuttering retail locations won't just affect retailers and consumers, as Greenstreet Advisors reported: Store closures will also hurt low-performing malls, approximately 5% of all malls in the country.
"E-commerce has had a much bigger impact than we and all players in the industrial space anticipated," Greenstreet analyst Eric Frankel said in the report. "The shift from four-day to two-day shipping or next-day delivery has been a very meaningful factor in the change."
Robots are already taking over retail
Job automation, which sometimes sounds like a "far-off" concept, is already occurring in the retail sector: Up to 7.5 million retail jobs will most likely be automated over the next few years, according to Cornerstone Capital Group. For example, cashier jobs are first in line for automation, Fast Company reported — self check-out, anyone?
"There is a lot of stress in being a retail worker today," Retail, Wholesale and Department Store Union Stuart Appelbaum told NPR. "You worry about e-commerce, you worry about automation, you worry about what's happening with all the retail jobs that are being lost as stores close."
E-commerce currently accounts for more than 8% of all retail sales, Cornerstone Capital Group found, with Amazon accounting for 43% of all online sales in 2016. Furthermore, retail jobs make up about 10% of the total U.S. labor force, which means millions of jobs are at stake.
What can you do if you work in the retail sector and may need to look for a new job? One thing you can do is sharpen your soft skills, like public speaking, remembering names and brushing up on small-talk skills. Also, update your resume and expand upon your current skillset so you're prepared to transition to something new, as MarketWatch suggested.
Sign up for The Payoff — your weekly crash course on how to live your best financial life. Additionally, for all your burning money questions, check out Mic's credit, savings, career, investing and health care hubs for more information — that pays off.