Anti-Putin Protest Photos: Hundreds arrested in Moscow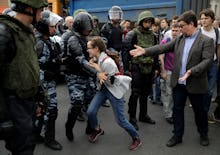 The Russian government rounded up hundreds of protesters on Monday amid anti-corruption demonstrations in cities across the country. Among those arrested was Russian opposition leader Alexey Navalny, who was barred from running against President Vladimir Putin in the country's elections in 2018.
Navalny's wife Yulia said on Twitter that he had been arrested outside their home on his way to a protest in Moscow. Russian police said Navalny was arrested for "failing to follow police orders and violating public order," according to the Guardian.
The demonstrations, which coincided with Russia Day, were aimed at rattling the Putin administration. Similar demonstrations against Russian Prime Minister Dmitry Medvedev, organized by Navalny in March, saw 60,000 Russians take to the streets across the country.