Greg Gianforte pleads guilty to assaulting reporter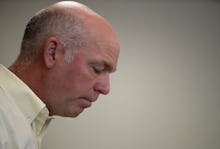 Greg Gianforte, the newly-elected Montana congressman who made headlines for body-slamming a Guardian reporter the day before he was elected, pled guilty to assault Monday.
Gianforte will be required to complete 40 hours of community service and 20 hours of anger management by the end of November, according to Bozeman Daily Chronicle reporter Whitney Bermes. He will also be required to pay $385 in fines and court fees.
A Montana judge initially planned to give Gianforte four days in jail, but changed his mind after he found out that Gianforte would not be eligible for a jail work program.
Gianforte's attorneys will be able to move to have the charges dismissed after six months if he fulfills the conditions of the deferred sentence.
Gianforte was charged with misdemeanor assault in May after he allegedly body slammed and punched Guardian reporter Ben Jacobs for asking him a question about Donald Trump's healthcare replacement bill.
In a Montana courtroom Monday, Gianforte said that he grabbed Jacobs' wrist, and that "a scuffle ensued," according to Whitney Bermes, a reporter for the Bozeman Daily Chronicle. Jacobs took the stand to testify about the details of the assault.
The assault charges carried a maximum penalty of a $500 fine or a six-month jail sentence. The Associated Press first reported on Friday that Gianforte was expected to plead guilty.
After the assault, Gianforte blamed Jacobs, alleging via a spokesperson that Jacobs behaved aggressively toward him and grabbed Gianforte before Jacobs fell to the ground on his own.
But after winning the election, and after a Fox News crew who witnessed the assault disputed Gianforte's statement, the politician backtracked. In his victory speech, he apologized for the assault.
Last week Gianforte sent a letter to Jacobs apologizing for his "unprofessional, unacceptable and unlawful" behavior, saying he would donate $50,000 to the Committee to Protect Journalists.
"Notwithstanding anyone's statements to the contrary, you did not initiate any physical contact with me, and I had no right to assault you," Gianforte wrote in the apology letter. "I am sorry for what I did and the unwanted notoriety this has created for you. I take full responsibility. … I made a mistake and humbly ask for your forgiveness."
The donation and the letter were part of an settlement that stated Jacobs would not bring civil charges against Gianforte.