No, this is not Barack Obama's official White House portrait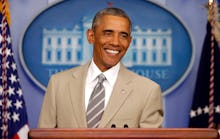 Contrary to speculation on social media, a portrait of former President Barack Obama wearing his much-maligned tan suit is not the official White House portrait for the 44th president of the United States.
The above image, an oil painting by Dutch artist Edwin van den Dikkenberg, is not Barack Obama's official White House portrait, a spokesperson for Obama told Mic.
"President Obama will have a portrait. The artist and image will be shared closer to the reveal. I don't have an update on when the portrait will be revealed," the spokesperson said.
The image went viral on Monday afternoon, apparently following a tweet by Jamar Boyd, a Georgia minister. "The tweet was not to confuse anyone, but to share a unique and befitting image of President Obama. An image which not only I appreciated, but too many others," Boyd said in an interview. Boyd said he found the picture on Facebook on Monday.
Every president, stretching back to George Washington, has sat for an oil painting. Obama's predecessor, President George W. Bush, was painted by the Texan portraitist John Howard Sanden. President Bill Clinton's image was captured by Alabamian artist Simmie Knox.
Obama, who wears primarily navy and gray suits, famously wore a tan suit to a press conference in 2014, sparking a conversation on social media. The suit has since become a meme: Obama joked he regretted not wearing a tan suit during his final press conference.
Van den Dikkenberg, said in an interview he was "very pleased to hear that [his] portrait of Barack Obama appeared on Twitter. "I wish I had the opportunity to paint the official portrait, but that's not the case."
"I started a new career as a portrait painter a few years ago after having worked as an architect for 14 years," van den Dikkenberg said. "I do commissions and I also paint famous people I admire, like the portrait of your former president."
June 13, 2017 9:37 a.m.: This story has been updated.
Correction: June 14, 2017