Jeronimo Yanez Verdict: Officer who fatally shot Philando Castile found not guilty of manslaughter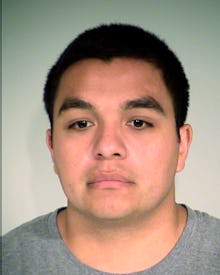 Jeronimo Yanez was found not guilty of second-degree manslaughter Friday for fatally shooting Philando Castile — a 32-year-old black motorist and school cafeteria worker — in Falcon Heights, Minnesota, on July 6, 2016. He was also found not guilty on two counts of dangerous discharge of a firearm.
Castile's girlfriend, Diamond Reynolds, streamed the aftermath of the shooting on Facebook Live, showing the St. Anthony, Minnesota, police officer with his gun still pointed at the bleeding Castile.
The verdict marked the end of five days of jury deliberation in the case, which was tried in nearby St. Paul by prosecuting attorney Jeffrey Paulsen. A conviction would have carried the possibility of up to 10 years in prison for Yanez.
"[Officer Yanez] chose to use deadly force as a first option, not a last resort," Paulsen told jurors during closing arguments Monday, according to WCCO reporter Mary McGuire, who was in the courtroom at the time.
The outcome of the trial marks yet another demoralizing setback for the Black Lives Matter movement and its supporters, who have watched helplessly as one police officer after another was acquitted or not indicted for killing black people in recent years.
Just the day before Yanez shot Castile in 2016, another black man, Alton Sterling, was shot and killed by police in Baton Rouge, Louisiana, and no officers were charged in his death. Both incidents sparked nationwide protests, echoing the fallout from prior killings that fueled police accountability demonstrations in Baltimore, New York City, Cleveland, Ferguson, Missouri, and elsewhere.
The Yanez trial was argued before a mostly-white jury, which only included two people of color. The trial featured emotional testimony from Reynolds, Castile's girlfriend, whose four-year-old daughter — Dae'Anna — was also in the car at the time.
"I know that people are not protected against the police," Reynolds testified on June 6, according to Minneapolis-based reporter Jon S. Collins, who was present in the courtroom. "And I wanted everyone to see, that if I died in front of my daughter, everyone would know the truth."
Unlike previous high-profile black victims of police violence — who have typically been unarmed — Castile allegedly informed Yanez that he was carrying a registered firearm during the traffic stop that led to his death. Yanez's defense team argued that their client acted out of fear for his life when Castile reached for his waistband.
Prosecutors, on the other hand, argued that Yanez made an unnecessary snap judgment when he opened fire, and that forensic evidence indicated that bullet wounds to what would have been Castile's trigger finger did not show corresponding damage to his shorts pocket, where his gun was being held, WCCO reports. They argued that Castile was reaching for his wallet.
"The victim in this case was a good man," Paulsen said, according to WCCO. "The kids loved him, and he was a role model to them. And now they've been deprived of that role model."
June 16, 2017, 4:26 p.m.: This story has been updated.