The Kardashians are not hurting black women's feelings. But they may be stealing black wealth.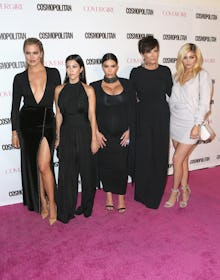 It's only Tuesday, but it's already been a bad week for the Kardashian klan.
Two of the sisters, Kylie Jenner and Khloé Kardashian, have been publicly accused of outright stealing the designs of black women entrepreneurs, repackaging them as their own and then lying about it.
Kylie rolled out a summer line of camo-print athleisure that looks eerily similar to the designs of a black-owned independent company called PluggedNYC, which sent the reality star its new line of sports bras and sweatpants shortly before she introduced her own.
Meanwhile, Good American, Khloé's new denim company, just introduced a line of bedazzled bodysuits that look a whole lot like the ones offered up by black indie designer Destiney Bleu, who published emails that she alleges are proof that Kardashian ripped her off.
The emails, published by HuffPost, appear to be the actual receipts — of purchases made on Kardashian's behalf by an executive assistant who noted that Khloé "loves" Bleu's designs. After publishing the emails, Bleu's camp was hit with a cease and desist order from Kardashian's attorneys.
"You are not the first person to design a mesh bodysuit with embellishments or mesh fabrications," the letter said. "The claim that Good American or its partners have stolen or copied your designs is ludicrous."
The Kardashian empire is a brand that's built on white women's interpretations of black womanhood — big butts, box braids, full lips. These characteristics, while historically mocked and derided on actual black women, have been deemed valuable and desirable on white women's bodies, a trend the Kardashians have boosted and profited from to the tune of $450 million, which is the family's estimated wealth, according to Life & Style. Amy Zimmerman has a great recap of the whole saga over at the Daily Beast, where Zimmerman writes about the sisters' long history of profiting off of black creativity.
From their long-running reality television show Keeping Up With the Kardashians and its various spinoffs, to their apps and makeup kits, endorsements and retail chains, they are selling a carefully curated and highly lucrative lifestyle that, at the very least, is influenced by the style of black women.
But the conversation that swirls around them is often misguided. Are they appropriating black culture — or merely appreciating it? (Yes, there's a difference, and this conversation between Anna Holmes and Rivka Galchen at the New York Times Magazine helps explain it.) Is cultural appropriation even all that bad? And if black women were so genius, wouldn't they find ways to capitalize off of their own culture all the same?
The latest drama surrounding Khloé and Kylie puts a finer point on why those questions miss the bigger picture. The Kardashians are not under fire because they are hurting black women's feelings. After all, shoutouts do not pay the bills.
This is a conversation about one of the most recognizable brands in modern American history doing what so many companies and governments before them have done: making money off of the labor of black women, while relegating actual black women to the sidelines.
Put simply: Black women often work harder for less money, while the Kardashians seem to have been given license to turn that very work into millions.
Here's some perspective: The number of businesses owned by black women increased by an astounding 178% from 2002 to 2012, according to a groundbreaking new report issued on June 7 by the Institute for Women's Policy Research in Washington, D.C. This was the largest increase among all racial and ethnic groups of men and women. In some states, like Mississippi and Georgia, black women helm more than 40% of all women-owned businesses. That's great news, right? Proof that the entrepreneurial spirit is alive and well in black communities and not off limits to women?
A closer look at the data reveals that across the nation, businesses owned by black women have the lowest average sales per firm among all racial and ethnic groups of men and women. They average roughly $27,753 in annual sales.
This isn't lost on the black women at the center of the latest Kardashian kerfuffle. Bleu, the black designer who claims Khloé stole her designs, released a statement of her own through her attorney in response to Kardashian's cease-and-desist letter, which got to the heart of the matter. (Read the full statement here.)
"There is also something deeply uncomfortable about someone with Khloé's wealth and power appropriating designs and fashion directly from a black woman with a small business without crediting her, making cheap knockoffs, and then attempting to threaten her into silence."
So yes, it is hard to keep up with the Kardashians' business empire — especially if they're taking the work of black women and throwing it into their well-oiled Hollywood machine, making it impossible for those women to keep up.