E3 2017 Ubisoft 'Skull & Bones': Players sail the high seas in PvP online title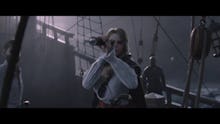 Ubisoft has announced a brand new online multiplayer game in the form of Skull & Bones. The debut trailer made its appearance during Ubisoft's E3 2017 presentation, showcasing naval combat reminiscent of that of Assassin's Creed IV: Black Flag, and a multitude of new tweaks and changes to further flesh it out into a whole new game. 
You'll be sailing the high seas out in the Indian Ocean as you square off against friends and enemies with a large selection of ships of various sizes. In terms of pirate games, it's got a much grittier feel than Rare's upcoming pirate-based title Sea of Thieves, with more "typical" pirates who'd sooner cut you than look at you. 
The tactical action game (with pirates!) is heading to PC, PlayStation 4, and Xbox One  in 2018.
More news from Ubisoft E3 2017
Check out more of our coverage from the Ubisoft E3 2017 press conference, including the incredible Beyond Good and Evil 2 reveal, confirmation on the new Mario + Rabbids game, a pirate game called Skull & Bones and surprising new Far Cry 5 gameplay.