Dennis Rodman, personal friend of Trump's, is heading back to North Korea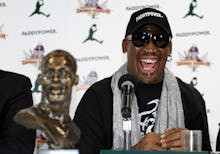 Dennis Rodman, the bad boy of '90s basketball, is heading back to North Korea this week, CNN reported.
Rodman refused to answer questions about his trip when spotted at the Beijing airport on Monday, however, officials from North Korea confirmed his travel plans to CNN.
The one-time NBA great has visited the nation on four separate occasions, CNN noted, but has never traveled in any official capacity for the United States. A senior U.S. official stressed to CNN that this trip was no different, however, it is of note that Rodman has a personal relationship with both North Korean Supreme Leader Kim Jong Un and President Donald Trump as he appeared on Trump's "Celebrity Apprentice" in 2009. Rodman also endorsed Trump for president in 2015.
In March, the very idea of Rodman acting as a mediator between the two world leaders was floated during a panel discussion that Rodman took part in at West Point, the Los Angeles Times reported.
"To me he is just a normal guy. He told me, 'I would love to come to America to go to a New York Knicks game.' He actually said that to me," Rodman told the cadets in the audience. "Obviously, he can't come here or he would be dead."
Rodman, who said his friendship with the notorious dictator is about sports, not about politics, added that both Kim and Trump have expressed mutual respect for one another in the past.
"I was in [Trump's] office, and he said, 'I want to go.' That's the first thing he said,'' Rodman said. In April, Trump even praised the dictator following weeks of rising tension over Kim's nuclear ambitions.
"At a very young age, he was able to assume power. A lot of people, I'm sure, tried to take that power away, whether it was his uncle or anybody else. And he was able to do it. So obviously, he's a pretty smart cookie," Trump told CBS. After hearing the comment, Kim said he'd be "honored" to meet Trump under the "right conditions," Mic reported.
Chris Volo, Rodman's agent, told the Los Angeles Times that Rodman would be more than happy to represent the U.S. for Trump, adding, "He would go back there in a second, if it ended up helping our nation, helping our president."