Asgardia, explained: Everything we know about the would-be sovereign space nation of the future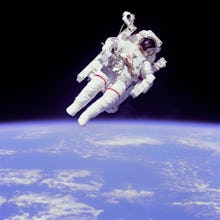 Russian scientist and businessman Igor Ashurbeyli is very serious about building a sovereign nation in outer space. He's so sure of his plans, in fact, that he's funding the space nation — called Asgardia — through his Austria-based Aerospace International Research Center.
But even if his idea is truly ridiculous, Ashurbeyli isn't the only one planning for human life in orbit: Roughly half a million people have already applied for Asgardian citizenship, Ashurbeyli said in a press conference at Hong Kong's Ritz-Carlton Hotel on June 13. It's such a high number that Asgardia has stopped taking applications while it weeds a few people out.
"We have excluded minors who have registered without the permission of their parents," Ashurbeyli said. "Yes, it was a lot of children."
Here's what else was revealed:
Asgardia aims to be a fully functional, U.N.-recognized nation.
Slowly but surely, things are coming together. If all goes as planned, Ashurbeyli estimates that Asgardia will earn United Nations recognition by the spring of 2018.
For now, Asgardia is registered as a nonprofit organization in Vienna, Austria, where Ashurbeyli's Aerospace International Research Center is located. He said that there are additional reasons he chose Austria. For one, the nation is "not a member of any military or political alliance" and also makes for easy access to the United Nations. If the nation is recognized, all properties will be transferred to the state.
It has a constitution, a coat of arms and a national anthem.
A constitution has already been drafted, along with a formal governmental structure based on models from several world powers:
"Asgardia is a Constitutional Monarchy that is the first free space unitary, social nation under law that is above ethnic, national, religious divides, based on morality, fairness, peace and the equal dignity of every human being, which looks to the future and the infinite space of the Universe."
Asgardians will be allowed to keep their citizenship (or dual-citizenship) with nations on Earth, yet they will have their own Asgardian flag, coat of arms and national anthem to identify with. A recent contest to come up with these national symbols garnered about 8,000 entries from participants in 135 countries, Ashurbeyli said.
"Asgardia does not engage in politics," the constitution reads. "There is no place for political parties in Asgardia. But every Asgardian can freely participate in political life on Earth."
The Asgardian calendar is 13 months.
Fun cultural things — like holidays and a 13-month calendar — have been established, along with more serious entities such as elementary stages of the economy. Asgardia AG was recently registered as a stock company in Vienna, for example. Any citizen of Asgardia will be able to become a shareholder, Ashurbeyli said.
"The main goal of this company is to collect, analyze and fund any ideas and startups in the space technology development domain for the benefit of Asgardia — because Asgardia is a country of space ideas, and for the benefit of all humankind," he said.
This fall, a satellite will launch as the first piece of this puzzle.
"The first presence of the Asgardia nation will be in space this year," Jeffrey Manber, co-founder and chief executive officer of a U.S.-based space company called NanoRacks, said at the Hong Kong press conference.
He means the Asgardia-1 satellite, a tiny 2U cube that's less than 8 inches on each side. The satellite, which has already been filed with the FCC, weighs in at 2.8 kilograms (about 6 pounds) and is slated to launch into space this fall. It will hang out at an altitude of about 450 to 500 kilometers, according to Manber, whose company is helping Asgardia with the satellite.
It'll store the names of Asgardian citizens — with the first 1.5 million citizens receiving some free storage — but there will also be capacity for more information to be added later on.
There are, of course, some kinks to work out — like the fact that Asgardians are mostly men.
Asgardia has several noble values that many other societies hold dear. But it's questionable whether or not this space nation of the future will be able to transcend some of the Earthly, human flaws today's societies grapple with.
Asgardia will be a "cross-ethnic, cross-national, cross-religious, ethical, peaceful entity trying to settle humanity in space," Ram Jakhu, director of the Institute of Air and Space Law at McGill University, said at the press conference.
That's an ambitious goal for sure, especially since just 17% of current Asgardians are women. (Using a Russian language interpreter, Ashurbeyli told a reporter to ask women — not him — why that is. He later speculated that women are less keen on taking risks or are perhaps worried about taking care of their Earthly homes.)
Just 17% of current Asgardians are women.
Most immediately, he called on the world to vote on the current drafted constitution via Asgardia's official website, stating that "we must not waste time." As written in the current draft of the constitution, parliament would have to be elected in the next six months, and Ashurbeyli's authority as the "space kingdom's" head of nation would be limited to just five years.
"I invite all Asgardians to take part in this historical event," he said.