Megyn Kelly dropped from Sandy Hook gala hosting gig after Alex Jones interview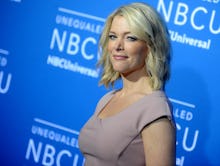 After her controversial decision to air an interview with Sandy Hook denier Alex Jones, Megyn Kelly has been barred from hosting an event for an anti-gun violence organization founded by families who lost their children in the 2012 massacre.
Kelly was set to host the Promise Champion Gala, organized by Sandy Hook Promise, Wednesday night in Washington, D.C. The foundation released a statement late Monday announcing its decision to drop Kelly as emcee due to her upcoming televised interview with the far-right radio host and blogger behind Infowars.
"Sandy Hook Promise cannot support the decision by Megyn or NBC to give any form of voice or platform to Alex Jones and have asked Megyn Kelly to step down as our Promise Champion Gala host," Nicole Hockley, co-founder and managing director of the organization, said in the statement. "It is our hope that Megyn and NBC reconsider and not broadcast this interview."
Kelly responded to losing her hosting job in a statement Tuesday. She said she's "disappointed" that she can't support Sandy Hook Promise at its event, as she finds Jones' denial of the Sandy Hook massacre "as personally revolting as every other person does."
Kelly's interview with Jones is scheduled to air Sunday on NBC's Sunday Night with Megyn Kelly. Jones has suggested on several occasions that the 2012 Sandy Hook shooting, during which 20 children and six adults were fatally shot at a Newtown, Connecticut, elementary school, is a hoax perpetuated by gun control advocates. He claims the tragedy was staged using actors.
Despite pressure from Sandy Hook families, network advertisers and Jones himself to scrap the interview, Kelly continues defending her choice to give the conspiracy theorist a platform on national television. On Twitter, she wrote that her job is to "shine a light" on a man who "many don't know."
In an preview clip of the interview, Kelly tells Jones that Sandy Hook parents get "very angry" when he accuses them of fabricating their children's deaths.
"But they don't get angry about the half million dead Iraqis from the sanctions," Jones replies.
He ends the preview clip by changing the subject to "animal-human hybrids," asking, "Isn't that the big story Megyn Kelly should be doing?"
June 13, 2017, 11:37 a.m.: This story has been updated.