Marissa Mayer is leaving Yahoo for good. Here's a rundown of her tumultuous 5 years as CEO.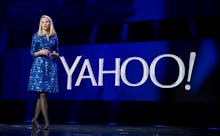 Marissa Mayer's tumultuous run as CEO of Yahoo is coming to an end.
Yahoo, the pioneering digital company that's struggled mightily since the emergence of Google, was officially acquired by Verizon today in a $4.48 billion deal that was first announced in July, according to CNBC.
In an apparent part of the deal, Mayer announced her long-anticipated departure as Yahoo's chief executive in a Tuesday letter to the company's employees, which she posted on her Tumblr account.
"It's been my great honor and privilege to be a part of this team for the last five years," Mayer wrote. "While reaching this moment has certainly been a long road traveled, it marks the end of an era for Yahoo, as well as the beginning of a new chapter — it's an emotional time for all of us."
Here is a rundown of Mayer's time at Yahoo.
A hopeful start
Mayer was a highly-touted executive when she left Google to head its search-engine rival in 2012. She was Google's first female engineer when she joined the company in 1999, and helped create some of the tech titan's most famous products and services, including Google Earth, Google Maps and Google Images.
Newsweek called Mayer "one of the most powerful women of her generation" when it put her on the cover of its September 2006 issue next to Queen Latifah and Emmy-winning broadcast journalist María Celeste Arrarás.
Bad deals
Despite Mayer's record of success, Yahoo made some costly bad bets under her leadership, most notably Tumblr, for which it paid $1.1 billion in 2013.
It was a deal Mayer herself vowed not to "screw up," as Yahoo attempted to attract millennial eyeballs, but the company never figured out how to turn those Tumblr page views into ad dollars, according to Digiday.
Yahoo spent more than $2 billion on at least 53 acquisitions with questionable returns under Mayer, whose team acquired several companies just to add to the talent roster, according to Gizmodo.
Unlike Tumblr, most of the acquired companies were simply discontinued.
No work from home?
Mayer raised eyebrows in February 2013 when she banned Yahoo employees from working remotely from home. Mayer was reportedly upset seeing mostly empty parking lots after driving into the company's Sunnyvale, California, headquarters, according to Business Insider.
Some angry workers leaked the memo, written by development head Jackie Reses, announcing the ban to the media.
"We're asking all employees with work-from-home arrangements to work in Yahoo! offices," Reses wrote. "Being [at] Yahoo isn't just about your day-to-day job, it is about the interactions and experiences that are only possible in our offices."
The controversial move motivated some business reporters to characterize Mayer as a "Stone Age" leader.
Mayer defended her decision at an April 2013 human resources conference and again during a 2015 Global Forum Conference interview in San Francisco.
"I hope it's not my legacy," she told Fortune editor Adam Lashinsky, according to Business Insider. "I definitely got more of an external response than I even did internally."
Yahoo execs abandon ship
Despite spending billions to recruit and retain top talent at Yahoo, many top leaders fled the company in 2015.
Infighting among leadership reportedly led to tenured homepage senior vice president Mike Kerns leaving in April of 2015 after nine years at the company.
Two months later, chief information security officer Alex Stamos left to join Facebook. An apparent beef with Mayer led marketing boss Kathy Savitt to exit the company in September. Marketing partnership leader Lisa Licht jumped ship in October, and development head Jackie Reses departed for Square the same month.
Mayer spent "millions" more to keep HR boss Sandy Gould from saying goodbye in 2016 after hiring him just three years prior. Even Katie Couric contemplated leaving in 2016 after joining the company as its global news anchor in 2013.
Data breaches
Yahoo was hacked multiple times with Mayer at the helm, including an August 2013 attack that exposed 1 billion user accounts. The full scope of that hack wasn't revealed until December and it almost caused Verizon to scrap its acquisition deal.
On March 15, the Justice Department announced four people had been indicted in its hack investigation, including two members of the Russian Federal Security Service, CNN reported.