Who won E3 2017?: Pros and cons of each press conference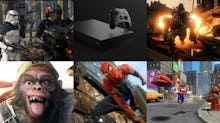 Now that we've seen every major E3 press conference, it's time to ask the age-old question: Who won? The real answer is nobody, as you can't win a trade show based around advertising your products. That said, we can analyze the pros and cons of each press conference to see how each company did.
Sports and Star Wars at EA
Electronic Arts mostly brought known quantities, with its library of sports games like FIFA and Madden as well as the fresh-looking Star Wars Battlefront II. Those all looked good, but none of them are horribly surprising.
The best game EA brought by a wide margin was the only brand new game, A Way Out. It's an incredibly ambitious-looking game about two strangers who break out of prison together, and it can only be played in co-op. One player can be playing while another is watching a cutscene. It looks fascinating.
Overall, EA had a good show dominated by things we already knew about. A Way Out could potentially be great, but it was the only really new thing they brought.
Xbox One X and Anthem dominate Microsoft
Microsoft had the most jam-packed show, as their new Xbox One X console dominated the conversation with its 4K visuals and $500 price tag. All of the games they showed, like Forza Motorsport 7, looked predictably beautiful on Xbox One X.
Microsoft brought a ton of games. Assassin's Creed Origins was publicly shown for the first time and it looks like a good Assassin's Creed game. Indie games like Cuphead and Tacoma continue to look hot. PlayerUnknown's Battlegrounds is coming to Xbox first before PS4. Finally, BioWare's new open world co-op shooter Anthem looks potentially really great. It was teased at EA's show but shown at Microsoft's show. Hit play on that video and have a great time.
Aside from games, Microsoft announced that original Xbox games will be backwards compatible on Xbox One in the future. That's a great development and a trend every console maker should follow.
Microsoft's show was solid and dense with announcements, but Xbox One X seems like a shaky value for what you're getting. You might be better off building a gaming PC at that price. Still, there are plenty of cool looking games coming to Xbox One in the near future.
Bethesda was short and sweet
Bethesda didn't even have enough games to fill out an hour, but what they had looked solid. Skyrim was shown for Nintendo Switch, which gives you the ability to use a Link Amiibo to dress as, well Link. That looked goofy, but hey, Skyrim is coming to Switch.
Doom and Fallout 4 are getting VR add-ons. DOOM VFR looks like new content with special VR controls while Fallout 4 is just that game but in VR. If you have a headset, that's probably cool.
By far the biggest announcement, though, is Wolfenstein II: The New Colossus. Coming to PS4, Xbox One and PC later this year, it takes B.J. Blazkowicz to Nazi-controlled America, where he'll stoke a revolution while dual-wielding shotguns. It looks like it's ratcheting up the crazy by several notches. Sign me up.
Bethesda was a little too dependent on old games to be a great press conference, but most of what they had looked fine. Wolfenstein is good enough to justify it, for me.
Dreams fulfilled in Ubisoft's show
Ubisoft ditched most of the embarrassing comedy and dancing skits they usually have for a tightly paced and shockingly good showing. Assassin's Creed Origins and Far Cry 5 look like what we expected, while the toys-to-life dogfighting game Starlink could potentially be interesting (and expensive).
They kicked off the show with a bonkers presentation of Mario x Rabbids Kingdom Battle, which looks like a much better game than it should. The Crew 2 has added boats and airplanes, but we still don't know if they've made the game fun this time. Elijah Wood is making a VR game called Transference, for some reason. Finally, Skull & Bones is a 5-on-5 multiplayer game using the pirate ship battle mechanics from Assassin's Creed. It's a clever way to keep those fun ship battle mechanics going in a multiplayer setting.
By far the biggest reveal, though, was Beyond Good and Evil 2. It's a prequel that doesn't seem to feature Jade or Pey'j, but what it lacks in concrete connections to the first game, it makes up for in style. I'm so ready to head back to that world after 15 years. There was no word on what kind of game it actually is, what platforms it's on or when it comes out, but it does feature some kind of seamless online world. It's probably a long way away, but at least it's real.
Multiple people cried during presentations of their games at Ubisoft's press conference. It was charming and sincere in a way these things usually aren't. Solid showing all around, Ubisoft.
Plenty of flair, but few surprises from Sony
While Microsoft brought the heat with a new console and a ton of new games, Sony stuck to their guns and mostly showed a bunch of stuff we've already seen. Horizon Zero Dawn is getting a DLC expansion, which is nice, while Uncharted: The Lost Legacy continues to look compelling.
Days Gone is still the same bikers-versus-zombies open world action game we saw last year, with little in the way of surprises at its E3 showing. God of War, similarly looks a lot like it did the last time we saw it. Unfortunately, we didn't see The Last of Us 2 at all.
Capcom is finally bringing Monster Hunter to a modern console, which is actually super exciting. Those games are a lot of fun, but it'll be even more fun with a normal controller and souped-up visuals. Shadow of the Colossus is getting a full remake rather than the PS3 remaster it already got, which is a bit confusing, but sure, why not.
Detroit: Become Human got a long story trailer, and it looks like it could potentially be great. Android uprisings against their human masters are always fun. It'll be interesting to see how that game pans out.
Finally, Insomniac's PS4-exclusive Spider-Man game was shown and it looks great. The combat is smooth, the visuals are colorful and swinging around New York City has never looked so good. It's definitely the most exciting thing Sony showed.
Overall, Sony relied too much on games we've already seen to be especially exciting. There was a real dearth of weird, unique, small games at the show. It was mostly explosive AAA stuff. That's fine, but it can get a bit exhausting.
Nintendo packed a punch in only 25 minutes
Nintendo didn't have a traditional press conference this year, again opting for a 25-minute Nintendo Direct devoted solely to upcoming Switch games. It was the most densely packed 25-minutes possible, starting with the massive-looking Xenoblade Chronicles 2, which is coming to Switch this holiday season. For a console currently lacking any huge RPGs, this is a nice development.
Rocket League coming to Switch isn't huge, but it's nice, regardless. Yoshi and Kirby are getting brand new adventures on Switch, but neither of them has a title yet. The Legend of Zelda: Breath of the Wild's two DLC packs both look interesting, which is good news for people like me who already spent $20 on them.
Let's address the elephant in the room, though. Metroid Prime 4. Metroid freaking Prime 4. That's huge news for fans of the dormant sci-fi series. It's going to look so nice on the Switch in HD. All we saw was a logo, so we don't know anything about the game yet, but it's real, and strong and my friend.
Finally, Super Mario Odyssey looks like a system-seller. Mario can use his hat to possess enemies, objects and people, which is hilarious and bizarre. You can be a T-Rex, for instance. It looks like a ton of fun and I can't wait to play it.
Nintendo had a great show, but only if you care about Nintendo franchises and the Switch. The lack of a single original IP or a new Animal Crossing is disappointing. It also would have been nice to hear more about the upcoming online Switch service and its Netflix-like classic game service.
More gaming news and updates
Check out the latest from Mic, like this essay about the sinister, subtle evils lurking in rural America that Far Cry 5 shouldn't ignore. Also, be sure to read our review of Tekken 7, an article about D.Va's influence on one Overwatch player's ideas about femininity and an analysis of gaming's racist habit of darkening villains' skin tones.