Uber board member David Bonderman made a gross, sexist joke during a meeting about sexism at Uber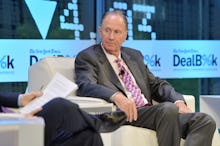 Uber's issues with sexual harassment and bullying have been well-documented over the last few months. On June 6, Uber fired 20 employees following a company-wide investigation into claims of sexual harassment. However, it appears the firings did little to squelch the sexism issue that allegedly runs rampant throughout the company — including on its board.
On Tuesday, the company released the results of a probe conducted by former U.S. Attorney General Eric Holder regarding the claims of sexual harassment. On the same day, Uber's board members took the stage at an all-hands meeting to discuss how it will move forward from the allegations.
At the event, Arianna Huffington — a board member brought in to lead efforts against workplace sexism — announced that Wan Ling Mortello would soon join the board. The addition of Mortello means that women will now make up 25% of Uber's board, Business Insider reported.
Huffington excitedly noted, "There's a lot of data that shows when there's one woman on the board, it's much more likely that there will be a second woman on the board." According to leaked audio obtained by Yahoo Finance, David Bonderman, a founding partner at TPG Capital and another Uber board member, replied, "Actually, what it shows is it's much likely to be more talking."
"Oh, come on, David," Huffington said in response.
The comment could not come at a worse time for the ride-sharing giant, which also announced on Tuesday that Travis Kalanick, the company's CEO, will be stepping away for an unspecified amount of time.
Holder listed 47 recommendations in his report, including rewriting Uber's cultural values and instituting clear guidelines on alcohol consumption. The company said the board has adopted every recommendation.
Immediately following the all-hands meeting, Bonderman apologized for his statement, calling it a "disrespectful remark" in a statement provided to Business Insider and others. It was tweeted by the New York Times' Mike Isaac, who covered the event.
"I want to apologize to my fellow board member for a disrespectful comment that was directed at her during today's discussion," said Bonderman, a man worth an estimated $2.5 billion. "It was inappropriate. I also want to apologize to all Uber employees who were offended by the remark. I deeply regret it."
According to the Washington Post, Bonderman also personally apologized to Huffington, who said in a statement, "David has apologized to all Uber employees for a remark that was totally inappropriate and against the new culture we are building at Uber."