Report: Otto Warmbier suffered "severe neurological injury" while imprisoned in North Korea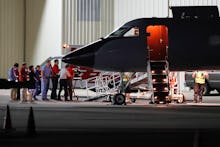 Otto Warmbier — the American student recently freed from North Korea after being held prisoner in the country since March 2016 — suffered a "severe neurological injury" during his time in custody there, a University of Cincinnati Medical Center spokeswoman told CNN.
Dr. Daniel Kanter, a professor of neurology and director of the hospital's Neurocritical Care Program, told CNN that Warmbier had not spoken or "engaged in any purposeful movements" since arriving home in the United States.
Kanter described Warmbier's condition as "unresponsive wakefulness" and said that the 22-year-old shows "no signs of understanding language or responding to verbal commands."
"This pattern of brain injury is usually seen as result of cardiopulmonary arrest where the blood supply to brain is inadequate for a period of time resulting in the death of brain tissue," he told CNN.
Though initial reports from a North Korean state-run media agency claimed that Warmbier had contracted a case of botulism and fallen into a coma shortly after his trial — the last time he had been seen in public — University of Cincinnati Medical Center said Thursday that he showed no signs of ever having the rare poisoning.
On Wednesday, after more than a year in a North Korean prison on charges of a hostile act against the country, Secretary of State Rex Tillerson announced that the University of Virginia student was being released and was en route to the United States to be reunited with his family. Later reporting revealed that Warmbier was in a coma and being medevaced from North Korea, and had been in that condition since his public trial in the country more than a year ago.
In a statement, the Warmbier family said they had only received news of Otto's comatose condition a week prior to his release.
During a Thursday press conference, Otto Warmbier's father, Fred Warmbier, appealed to North Korea to release the three other Americans currently imprisoned there.
"No other family should have to endure what the Warmbiers have," he said.
He also said that he had received a phone call from President Donald Trump regarding his son's release, during which Trump said that his administration had worked hard to secure Otto's release and apologized for the outcome.
"It was gracious and it felt good, and I thank him for that," Fred Warmbier said.
Otto Warmbier was sentenced to 15 years of hard labor in North Korea in March 2016 after being accused of stealing a political banner from a hotel.