Washington police issue arrest warrants for Erdogan bodyguards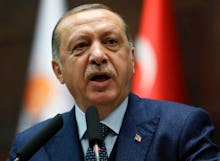 Police charged 12 Turkish security officials and police officers with assault in connection with the May 16 brawl outside the Turkish ambassador's residence, Washington, D.C., Metropolitan Police Department chief Peter Newsham said at a news conference on Thursday.
Arrest warrants have been issued for the security officials, police said. "If they attempt to enter the United States they will be arrested," Newsham said.
Warrants were also issued for two Canadian citizens, he said. With two men arrested on Wednesday and two arrested immediately following the incident, the total number facing charges is now 18.
"In the United States and particularly in the District of Columbia we hold our ability to peacefully protest as a sacred right," Newsham said. "When these events unfolded in early May we said we would do everything we possibly could to hold those responsible accountable for their actions."
"We are hopeful that those responsible will do their part and present themselves to answer for these charges," he added.
Fighting broke out outside the Turkish ambassador's residence when demonstrators protesting Erdogan's government clashed with his supporters and bodyguards. Eleven people were injured in what D.C. police described as a "brutal attack."
Members of Erdogan's bodyguards charged included Turgut Akar, Ismail Dalkiran, Servet Erkan, Tugay Erkan, Ahmet Karabay, Feride Kayasan, Lutfu Kutluca, Mustafa Murat Sumercan, Gokhan Yildirim, Ismail Ergunduz, Mehmet Sarman and Hamza Yurteri. All warrants were issued for felony or misdemeanor assault.
It was not immediately clear whether the State Department would ask the Turkish government to extradite them to the U.S. to answer the charges.
Both Republican and Democratic lawmakers have chastised Turkey for the brawl.
Correction: June 15, 2016