Best of E3 2017: Xbox One X, 'Beyond Good and Evil 2' and other great announcements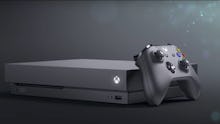 E3 2017 has been home to a cavalcade of video game announcements, some absolutely thrilling and others a little less so. There were several ups during the show, however, and plenty to get excited about in the wide world of video games, such as the unveiling of the Xbox One X (formerly Project Scorpio), Super Mario Odyssey's release date and the surprise Metroid Prime 4 reveal that appeared during Nintendo's presentation.
Out of all the amazing things that happened during this year's show, it was difficult to choose only five. Nonetheless, here are five of the best moments from E3 2017, in case you either missed the show or just want to relive the magic once again.
Best of E3 2017: Microsoft announces the Xbox One X
The console previously known as "Project Scorpio" came onto the scene during Microsoft's E3 2017 presentation and immediately made a splash, getting a new name in the form of "Xbox One X." The system is a powerhouse, with 8 million pixels and UHD Blu-ray playback as well as 6 teraflops of power. It will retail for $499 and releases Nov. 7 worldwide. That's plenty of time to save up if you need the extra pocket cash, though preorders aren't live for the system just yet. It's a massive new addition to the console ecosystem with plenty of games all its own coming down the pipeline.
Best of E3 2017: Metroid Prime 4 revealed
Fans have been waiting for a proper Metroid title since the Wii's release of Metroid: Other M. The last Metroid Prime game was Metroid Prime 3: Echoes, released back on the GameCube, so it's been some time. This announcement, "primed" for a Nintendo Switch release, went by quickly during Nintendo's E3 2017 Direct showcase, but the fact that it exists is a boon for anyone who's been dying to play a new Metroid game in the same universe since the GameCube bit the dust. It likely took everyone by surprise, and it's going to be a wild ride. We just don't know very much about it yet.
Best of E3 2017: Super Mario Odyssey gets a release date
After what seemed like an excruciatingly long wait from when it was first announced back in December, we finally got another, longer look at Super Mario Odyssey. It was an anchor of Nintendo's Direct presentation during E3 2017, ending out the colorful amalgamation of trailers, showing off new transformations with Mario's hat, Cappy, a better look at New Donk City, and even Pauline, a character from back in the Donkey Kong days. After being blessed with all of this new content, only one thing could "cap" it off: a release date. We got it, and Super Mario Odyssey is coming this year. It's releasing on Oct. 27.
Best of E3 2017: Shadow of the Colossus will make a triumphant return
The beloved PlayStation 2 classic Shadow of the Colossus was shown off during Sony's conference, much to fans' surprise. An updated and remastered version is coming to PlayStation 4 in 2018, though there weren't many details given as to what the update could include going forward. There's the prospect of expanded content, but fans will likely delight at the mere fact that the game is getting a proper current-gen release.
Best of E3 2017: Your favorite Xbox games are coming to Xbox One
There's a whole library of Xbox games out there we've all got, sitting and collecting dust no doubt. Microsoft is going to be bringing original Xbox game functionality to Xbox One as part of its backwards compatibility project, beginning with the fan-favorite Crimson Skies. There weren't many details given on which games are coming to the service first beyond Crimson Skies, but this is good news for those of us who hoard our games and can't bear to get rid of them. Microsoft is letting us breathe new life into our favorites, and that's awesome.
More news from Microsoft E3 2017
Check out more of our coverage from the Microsoft E3 2017 press conference, including info on the new Xbox One X, Playerunknown's Battleground Xbox reveal, Forza Motorsports 7's gorgeous new trailer and the Metro Exodus announcement. BioWare's Anthem reveal definitely stole the show. But don't miss out on Sea of Thieves, State of Decay 2, Crackdown 3 and Tacoma, either.