Blimp catches fire and crashes at the U.S. Open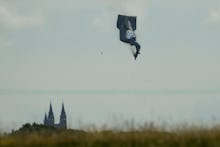 An ad blimp hovering above the U.S. Open PGA Golf tournament in Erin, Wisconsin, on Thursday apparently caught fire and crashed, according to media reports.
The crash occurred at 12:20 p.m. Eastern near Highway 83 and Highway 167, according to the Milwaukee Journal Sentinel.
The Washington Post reports the blimp's pilot parachuted out of the blimp before it hit the ground.
The blimp is owned by aircraft ad company AirSign. A spokesman for the company told the Milwaukee Journal Sentinel the pilot received minor burns but is OK.
Witnesses posted video of the crash on Twitter:
Footage and photos from local NBC affiliate WMTV shows emergency crews aiding someone near the crash scene.
The Washington Post reports that an injured person believed to be the pilot was eventually loaded on a gurney and airlifted to a local hospital.