Donald Trump will once again restrict tourist travel to Cuba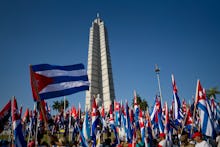 President Donald Trump is set to reinstate much of the United States' trade embargo with Cuba on Friday, once again restricting tourist travel to the Caribbean island and banning companies from doing business with any entity tied to the Cuban government, Politico reported.
"I will seek to promote a stable, prosperous and free country for the Cuban people," a draft of Trump's new Cuba policy reads, according to Politico. "To that end, we must ensure that U.S. funds are not channeled to a regime that has failed to meet the most basic requirements of a free and just society."
In 2014, President Barack Obama eased restrictions on tourist travel to the country, which had been isolated for decades thanks to the embargo. His administration allowed tourists to spend money in the country as part of educational trips. Yet the administration also was lax about enforcing those rules, according to Politico.
The Trump administration, however, will demand that trips "result in a meaningful interaction between the traveler" and Cubans, and will force travelers to keep records of their travels for five years, in case of an audit by the Treasury Department, Politico reported.
Trump plans to announce the changes Friday at a speech in Miami, a move that will make good on a campaign promise he made in the 2016 presidential election.
The Trump administration says Obama's policies let the Castro family regime profit, while not helping the Cuban people in the country.
"The oppressors of the Cuban people are the Cuban government who have increased repression on the island against dissidents and Ladies in White since re-establishing diplomatic relations," the White House said in a statement to Politico. "Prior to that, it was not clear to some if the Obama policy toward Cuba would work; today it is clear that the Obama policy toward Cuba does not."