Xbox One X vs. PlayStation 4 Pro: Which system is right for you?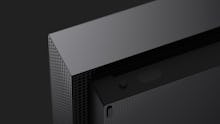 Now that the Xbox One X has been unveiled, there's no doubt gamers everywhere are comparing it with Sony's premium console in order to decide which is more deserving of their hard-earned dollars. If you're not purchasing both, which one should you choose?
Xbox One X: Should you purchase one?
The Xbox One X was just revealed during Microsoft's E3 2017 keynote, with Microsoft stating it's the "most powerful" console which will be on the market when it releases on November 7. It's the "smallest Xbox ever," with true 4K performance that you don't actually need a 4K television to appreciate, thanks to a process called "super sampling."
It boasts an internal liquid-cooled vapor chamber much like the GPUs from regular PCs, and will come with eight custom x86 cores clocked at 2.3 GHz, a custom AMD chipset known as the "Scorpio Engine" at 6 teraflops, 1 TB of storage and 12GB of GDDR5 RAM at 326GB/s.
If these specs don't do much for you, think of the Xbox One X as a powerful console that's built more like a PC than a regular Xbox One. It will come with a 4K HDMI cable, power cable, wireless Xbox One X controller, one month of access to Xbox Game Pass and a 14-day Xbox Live Gold trial, if you're interested in playing online.
As far as games go, Microsoft will be introducing original Xbox games to its Xbox One backwards compatibility system soon in addition to a larger library of games with upgraded visuals and other augments. Right now, the only major exclusive for Xbox One X is Forza Motorsport 7.
As far as the bottom line goes, if you're looking for raw power and are interested in Microsoft's cadre of games, you'll want to make room on your shelf for an Xbox One X.
PlayStation 4 Pro: Should you purchase one?
Sony's PlayStation 4 Pro system has been out on the market since November 2016, and has the advantage of established system updates. The system features twice the processing power of the PlayStation 4 and is recommended for PlayStation VR, which is an important tidbit if the VR games you saw during the E3 2017 presentations are something you're interested in getting into. Skyrim VR is coming to the platform, with Doom and Fallout 4 VR adaptations not far behind.
The PlayStation 4 Pro is mechanically inferior to the Xbox One X, however, with a weaker CPU in the form of an x86-64 AMD Jaguar with 8 cores at 2.1GHz and AMD Radeon GPU at 4.2 teraflops. It features 1TB of storage, 4K support and PlayStation VR support. But you'll have to pay the extra couple of hundred for PlayStation VR, as well as all the extras that it necessitates, such as PlayStation Move wands.
The PlayStation 4 is also getting a smattering of exclusives, with games like God of War, Detroit: Become Human, Uncharted: Lost Legacy and Spider-Man all announced as exclusives from E3 2017. The system will also work with all your existing PlayStation 4 games and accessories. If you're looking to get into the PlayStation library and want to involve VR, a PlayStation 4 Pro is probably your best bet.
More gaming news and updates
Check out the latest from Mic, like this essay about the sinister, subtle evils lurking in rural America that Far Cry 5 shouldn't ignore. Also, be sure to read our review of Tekken 7 and a piece on the best gaming dads of all time.