Here are all the ways to watch Thursday's congressional baseball game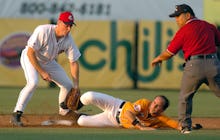 On Wednesday, a gunman opened fire on members of Congress as they practiced for an annual charity baseball game in Alexandria, Virginia. House Majority Whip Steve Scalise was hit during the incident and remains in critical condition. Additionally, U.S. Capitol Police officers, congressional staffers and the suspect were also shot. The gunman later died of his wounds while lobbyist Matt Mika also remains in critical condition.
But, despite the horrific violence, players representing both sides of the political aisle have decided to move forward with the event.
"The Members of Congress, the staff and the volunteers who were out at practice this morning care deeply about the causes they play to benefit. We believe the best way to honor them is to play the game as scheduled tomorrow night," the event's organizers said in a statement on Wednesday.
The game will begin Thursday, June 15, with the first pitch set for 7:05 p.m. Eastern at Nationals Park. Both teams will be wearing LSU gear in honor of Scalise, a Louisiana Representative, the Hill reported. British Ambassador Nigel Kim Darroch is scheduled to throw the first pitch in honor of the victims of the Manchester terror attack, CBS reported.
People across the country can tune in to watch the game in its entirety via a Facebook live stream on the Congressional Baseball Game for Charity's page.
C-SPAN will also be airing live coverage of the game. It is the first time the station has aired the event since 1983, according to the Washington Post.
Simulcast play-by-play audio from the game will be available on Federal News Radio. Coverage on the station will begin at 6:30 p.m. Eastern, the Washington Post reported.
Other stations will not be showing the game in its entirety, but viewers will be able to watch highlights on Fox News as Martha MacCallum anchors her 7 p.m. show outside Nationals Park. Sean Hannity will continue coverage of the game at 10 p.m. for Fox News.
Moreover, Erin Burnett will broadcast her CNN show from Nationals Park, the Washington Post noted, starting at 7 p.m. Anderson Cooper will continue CNN's coverage as he host his show from the stadium as well. His program will begin at 8 p.m.
Or, if you're lucky enough to be in the Alexandria area you can go check it out in person for just $10.