'Garfield Go': 5 tips about the new 'Pokémon Go'-like AR game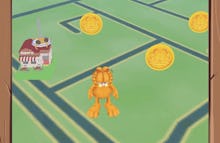 Pokémon Go has spawned an entire genre of "me-too" augmented reality games that have you wandering around the world to find items or complete other kinds of objectives. The latest to join the fold is the officially licensed Garfield Go, which uses similar mechanics aimed at Garfield fans and potentially a younger set of players and adorable rewards.
If you love Garfield or just want a less stressful and less competitive version of Pokémon Go, Garfield Go is an interesting and simplistic choice. But what's it all about? Here's everything you need to know.
Garfield Go: What's the game about?
Garfield Go has you searching for treasure chests, which are filled with random pieces of Garfield comic strips. You'll walk around in the real world and look for coins you can see on the in-game map. When you find a coin and tap on it you'll be given a minigame where you throw lasagna and other types of delicious Garfield treats at the fat cat, where he'll gobble it down.
Once he's eaten his fill, he'll reward you with treasure. In turn, you'll be rewarded. Then it's time for you to start looking for more treasure again! Or, if you're out of food, you can visit stores on the map or play minigames to replenish your stores once more. There's a lot less to keep track of with Garfield Go, making it ideal for less hardcore, or even younger, gamers.
Garfield Go: Augmented reality is the name of the game
Like Pokemon Go, which has you walking around the real world to find Pokémon to capture, Garfield Go is an augmented reality title. This means your mobile device's GPS will be utilized so you can see what's going on out in the wide world. Your game will also use your camera to display where you are so you can feed Garfield and throw food at him for treasure. If you're interested in playing, make sure you allow access to your phone's camera and GPS functions.
Garfield Go: There are various treasures to collect
You won't be capturing any Garfields or characters from the show, but there's plenty of stuff to collect otherwise, like outfits and other accessories for Garfield himself, which can be fun additions to the game. You can use coins to purchase these things. If you play enough, you can even pick up rewards that you can use in real life, such as Garfield goodies or gift cards.
Garfield Go: This isn't developer Freeze Tag's first Garfield game
Freeze Tag released Garfield Go in tandem with Munzee, which is essentially an app that lets you go on a scavenger hunt in VR. It's a pretty popular title available via Android device users, and you can definitely see its influence here in Garfield Go. Previously, Freeze Tag released Kitty Pawp featuring Garfield, a cute puzzler in the vein of Candy Crush Saga.
Garfield Go: It's not just a Pokemon Go knockoff
Pokemon Go was hardly the first augmented reality game for a console to start with, and Garfield Go is taking a similar path with its UI and maps, but it's not a game about capturing anything or even doing things beyond interacting with Garfield. It caters to fans of the comic strip and it's actually quite fun, especially when you consider the prospect of actually winning something you can use in the real world. It's free, so you're not going to miss out on anything by giving it a try.
More gaming news and updates
Check out the latest from Mic, like this essay about the sinister, subtle evils lurking in rural America that Far Cry 5 shouldn't ignore. Also, be sure to read our review of Tekken 7 and a piece on the best gaming dads of all time.