What Trump's new Cuba policy could mean for Cuban people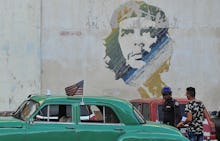 On Friday afternoon, President Donald Trump, in a promised reversal of former President Barack Obama's policy, announced sweeping changes to U.S. policy on Cuba. The changes were designed to shunt American money away from the Communist regime, led by 86-year-old Raúl Castro, toward the island's nascent private sector, Trump said. But, according to experts, they're likely to have the opposite effect.
"Clearly they want to undermine or hurt the Cuban government," John Caulfield, who was chief of the U.S. Interests Section in Havana from 2011 to 2014, told Mic. "The only problem is that every time we try to squeeze Cuba, the last people to suffer are the people closest to the government. But opening things up has allowed more money to flow to ordinary Cubans."
One American company, Airbnb, has put more than $40 million in the pockets of Cubans since it began operating on the island, a spokesperson told Mic. Cruise lines, hotels and agriculture companies have also signed deals to work there. But, under the new rules, those deals could be in jeopardy, experts said.
"You're not going to change that government by trying to restrict money. The elite in that system are well-protected," Caulfield added.
Sen. Marco Rubio (R-Fla.), whose family left Cuba several years after Fidel Castro seized power and who spoke before Trump, was reportedly instrumental in crafting Trump's Cuba policy. "This has Marco Rubio's fingerprints all over it," Michael Kelly, a Cuba policy expert and associate dean at the Creighton University School of Law, said in an interview. "I'm still looking for who's going to run Cuba policy out of the White House. So far, it's Marco Rubio apparently running it out of the Senate," he added.
The Miami Herald, who obtained a copy of the new rules ahead of Trump's announcement, reported Thursday that they bar Americans from doing business with GAESA, the Cuban military's business conglomerate. Through GAESA, the Cuban military owns or operates businesses across the country's economy. Reliable statistics are hard to come by, but Peter Kornbluh, a senior analyst at the National Security Archive in Washington, D.C., and co-author of Back Channel to Cuba: The Hidden History of Negotiations Between Washington and Havana, told Mic that "about 60% of the tourist agencies are linked to GAESA." All hotels on the island are owned or operated by GAESA, he said.
But the Cuban government is notoriously opaque, and most American citizens won't know which businesses are off-limits, Caulfield said: "An ordinary citizen wouldn't know what hotels are owned by the Cuban army. Even for me, who lived there, I don't necessarily know how the ownership of various state enterprises work."
Even if the policy successfully pushes American tourist dollars away from state-owned businesses and toward the small Cuban private sector, the country's cuentapropistas, or private entrepreneurs, would be too few to accommodate the burgeoning number of tourists, Parr Rosson, head of the department of agricultural economics at Texas A&M University and an expert on U.S.-Cuba trade, told Mic.
And the harder it becomes for U.S. businesspeople to travel to Cuba, the harder trade between the two countries will suffer, he said. "If there's a big downturn in, say, U.S. businesses' ability to stay at government hotels, then that results in the reduction of travel there. That'll eventually trickle over into trade."
The new rules will also tighten restrictions on Americans traveling to Cuba. Under the Obama administration, Americans were allowed to go to the island under 12 approved categories, including family visits and educational visits, but the administration didn't keep tabs on travelers. Under the new rules, travelers to Cuba will be subject to audit by the Treasury Department's Office of Foreign Asset Control, which might result in fewer travelers. "I think there'll be a chilling effect on the casual travelers, frankly, because they won't want to go through what they have to go through to get there," Kelly said.
Whether OFAC has the manpower to audit millions of Americans who travel to Cuba each year is an open question. "OFAC does not have the resources to go after all the Americans who are going there, unless they get an army of inspectors to follow people," Caulfield said.
Adding to the difficulty is the fact that almost all business in Cuba is done in cash, making clear audits a near-impossibility.
Raúl Castro, who is president and the highest-ranking member of the Cuban Communist Party, has said he will step down from the presidency in 2018. How the United States behaves toward Cuba in the meantime could determine whether Castro's successor follows in his footsteps or rejects rapprochement with the United States, as Fidel Castro, who died in 2016, did.
"Raúl, being who he was and who he has been in the power structure of Cuba, was able to move these changes," Kornbluh said.
"But the next generation of high-level Cuban Communist Party leaders will not have that same cachet, and the hardliners who argue that the U.S. hasn't really changed its posture in any way toward Cuba now have all the ammunition they need," he said. "This is an extraordinary lost opportunity on the part of the president."
June 16, 2017 4:34 p.m.: This story has been updated.