Jada Pinkett Smith slams new Tupac movie 'All Eyez on Me'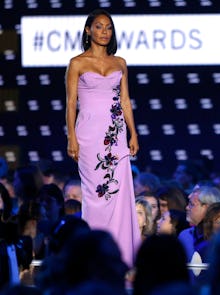 Actress Jada Pinkett Smith is not a fan of the new Tupac Shakur biopic All Eyez on Me and she wants the world to know why.
The film, which is receiving mostly terrible reviews so far, tells the story of the hip-hop icon's life, including scenes depicting his friendship with Pinkett Smith, which dates back to when the two were in high school together.
Apparently the movies' creators took some creative license with Shakur's story that Pinkett Smith didn't care for.
"Forgive me," the Girls Night star told her Twitter followers Friday afternoon. "My relationship to Pac is too precious to me for the scenes in All Eyez On Me to stand as truth."
Pinkett Smith went on to explain that some scenes in the film that depict her and Shakur never happened at all.
One interaction showed the rapper reading Pinkett Smith's character a poem featured in Shakur's book of poetry, "The Rose That Grew from Concrete," which was released after he was fatally shot in a 1996 drive-by shooting.
Another scene depicted the hip-hop star saying goodbye to Pinkett Smith in Los Angeles.
Pinkett Smith, however, didn't take issue with actors Kat Graham's and Demetrius Shipp Jr.'s portrayals of her and Shakur, only with the rewritten story they depicted.
Tupac and Pinkett Smith became close friends quickly when the aspiring stars attended the Baltimore School for the Arts in Maryland during the 1980s, according to People, which recently profiled the actress.
"In high school, Pac was a little funny looking," Pinkett Smith told People. "But as soon as he approached me, he was like a magnet. Once you paid attention to him he kind of sucked you in. And we hit it off from that moment on."
The actress ended her criticisms of the movie by wishing Shakur, who would've been 46, a happy birthday.