Michael Phelps will race a great white shark on Discovery Channel's Shark Week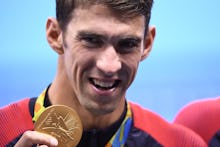 Michael Phelps, the most decorated Olympian in history, is coming out of retirement for one more race. But, instead of racing a mere human, which he would undoubtedly best, Phelps plans to race an literal great white shark.
Phelps, who has 39 world records and 23 Olympic gold medals to his name, will take on Jaws on Sunday, July 23, as part of the 29th anniversary of Shark Week on the Discovery Channel.
But, before he enters the pool with what Discovery called the most "efficient predator on the planet," Phelps will "get schooled" about sharks at the Bimini Shark Lab.
As Discovery explained in a press release:
Michael Phelps joins Doc Gruber and Tristan Guttridge of the Bimini Shark Lab to get a crash course on everything "shark." They'll dispel the myths and common misconceptions, teach him how to safely dive with sharks — including how to stay calm when a hammerhead swims two feet above his face — and will get Michael Phelps up close and personal with the incredible power of a great white.
During a recent panel discussion in New York, Phelps revealed a bit more about his involvement with this year's Shark Week.
"We just got off a plane from South Africa yesterday, we were down there for about a week," Phelps said, according to USA Today. "That one was fun, doing some stuff with Shark Week and for me, sharks are like my number one favorite animal in the world, being able to see them face to face was pretty cool."
It's also not a given that the shark will win. As the Los Angeles Times reported, the average cruising speed for a great white shark is about 5 mph. ESPN once clocked Phelps swimming at 6 mph, meaning this battle of man vs. beast could get very interesting. No word yet on exactly how Phelps will race the ocean's fiercest fish, but for his sake we hope there's a barrier involved.