Rihanna's boobs in her "Wild Thoughts" video are a feminist masterpiece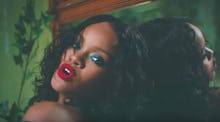 If there's one thing we can all agree on in these difficult times, it's that Rihanna is a queen who we must worship because we don't deserve her.
As Mic previously reported, Rihanna, or RiRi as I and her other closest friends call her, graced the world with her presence on Friday in the new music video for "Wild Thoughts" alongside DJ Khaled and Bryson Tiller.
The video has already racked up more than 3.2 million views in just a few hours. Without question the song will be a hit, and a true contender for song of the summer, but there's one thing women connected to in the video more than anything else: Rihanna's sheer looks and spectacular breasts.
Women across the globe took to social media to share their pure joy and feminist excitement at Rihanna's latest middle finger to the patriarchy. See, her looks aren't for the male gaze; those looks are just for her.
As she walks the streets, leading the charge with Khaled meekly playing the role of backup hype man, her sheer off-the-shoulder top perfectly accentuates her power and grace. As she writhes around in her bedroom, glistening with a perfect sheen of sweat, just because she feels like it, her sheer blue ruffled dress shows us all that she's in charge, no longer constricted by underwire or straps digging into her every curve.
Rihanna, the woman so many men love to judge for her evolving body, couldn't care less. This is for her. And women everywhere loved it and the message of freedom her wild boobs sent.