Donald Trump releases financial disclosure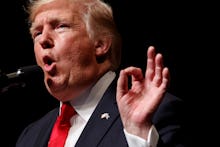 On Friday evening, at 5 p.m., the U.S. Office of Government Ethics released President Donald Trump's 2016 financial disclosure form. The 98-page document was voluntarily released by Trump, Politico reported.
While the document certainly shines a light on how and where the president make his enormous wealth, it does not paint a complete picture of his income.
Instead, the form provides a list of the president's assets, investments, income, retirement accounts and other holdings, CNN reported. And as Politico noted, the document also does not show just how much the president pays in taxes — that would take the president releasing his tax returns, which could show any potential conflicts of interest.
However, there are a few interesting points found in the document. As CNN reported, Trump listed $19.7 million in income from his luxury Washington hotel, which he opened in September of 2016 while still a candidate for president. The disclosure also noted Trump took home more than $37.2 million in "resort-related revenue" from Mar-a-Lago in 2016, along with $19.7 million in "golf related revenue" from Trump National Golf Club in Bedminster, New Jersey, CBS reported.
Additionally, Trump reported millions in royalties from his books. Most of those royalties came from "The Art of the Deal," which he published in 1987, and "Time to Get Tough," which was published in 2011. Trump also disclosed that he received $84,292 in pension benefits from the Screen Actors Guild.