Chuck Berry, the man who wrote the book on rock 'n' roll, finally shows us how it ends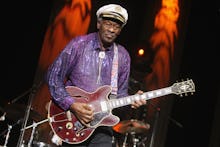 The last time Chuck Berry released a studio album, Madonna did not yet exist in the public eye. Think about that for a moment. The hiatus between 1979's Rockit and 2017's Chuck was large enough to create an entire Madonna. Rap, the dominating form of black music today, only came into existence with Sugarhill Gang (or, less famously, the Fatback Band a few weeks earlier) in 1979. I didn't exist at all.
Suffice it to say, something as anachronistic as Chuck, Berry's final album (out now via Dualtone and Decca), doesn't operate within any conventional wisdom we have about press cycles, comeback albums or any elder statesman trend narratives. Before checking out at age 90 in March, the man who invented and came to epitomize rock 'n' roll by putting sex, cars and scandal together on "Maybellene" never got to collaborate with Skrillex (like the surviving Doors) or Snoop Dogg (like Willie Nelson) or even Dave Grohl (like everyone else). It arrives 23 years too late to capitalize on Pulp Fiction setting a dance contest to "You Never Can Tell" in the fictional Jack Rabbit Slims. Hell, it arrives too late to capitalize on the only move it's got that couldn't have happened in 1979: a guitar solo from Rage Against the Machine's Tom Morello on the roaring first single "Big Boys," though you'd need to scan the credits to notice.
Chuck is no posthumous cash-grab; it was announced on Berry's 90th birthday, in October, and was implied to be the legend's final record. The album has no interest in altering an existing narrative like many other icons' last gasps. It's not a profound meditation on the oncoming end like Leonard Cohen's You Want It Darker, nor an 11th-hour appeal for tenderness like Warren Zevon's The Wind. It couldn't be further from the Rube Goldberg-Willy Wonka packaging surprises of David Bowie's Blackstar. It doesn't try to reinvent Berry in his creaky years as something else entirely, the way Rick Rubin convinced Johnny Cash in the mid-'90s that the Man in Black title had its goth-industrial uses. It's just Chuck, a guy who was disgraced in the public eye long before Twitter because he allegedly filmed women (including a minor) in secret in his restaurant's bathroom. And there's no indication on this record that he would've even known how to deal with a Cosby-esque resurgence of those crimes. He died before he had to.
Berry wasn't really an album guy to begin with, anyway, which probably explains why he hadn't done one of these things in 38 years. His best-known collection is probably 1982's The Great Twenty-Eight, which compiles the same greatest hits everyone knows: "Too Much Monkey Business," "Johnny B. Goode," "Maybellene," "Roll Over Beethoven," "No Particular Place to Go."
So Chuck is bizarrely normal, and good, too. It seems that only his surviving family, who often double as Berry's sidemen, and a loose cavalcade of players know how much time he did or didn't spend on the album. It really makes you sorry he didn't make 12 more of these in the past four decades. This may be the single most honest finale by a rock 'n' roller because it just is what it is, which is fitting enough because he invented rock 'n' roll. Sure, 10 songs in 34 minutes add up to a short, slight record with a thoughtless title padded by not one, but two, sequels to his old hits. ("Jamaica Moon" remakes "Havana Moon" from his very first record in 1957 — with patois! "Lady B. Goode" is self-explanatory.) But Chuck is also engaged enough to go out on not one, but two, spoken/talking-blues-type numbers with plotted-out stories.
First, "Dutchman" turns out to be even more of a "Johnny B. Goode" sequel than "Lady B. Goode," a meta account of the guy who wrote the standard ("I wrote a song about a poor kid/ Raised out in New Orleans/ It didn't make the Hall of Fame/ But it bought us shrimp, rice and beans"). And Lou Reed should've stayed alive long enough to record the shuffling, philosophical "Eyes of Man" ("Most of the struggle borne by woman/ Is seldom beheld in the eyes of man"). Earlier in the track list is the goofy country waltz "3/4 Time (Enchiladas)," wherein he brags about staying up all night "getting sideways." These are no departure from his typical skill set, though. More people than you'd believe would tell you he's one of rock's great lyricists, along with the usual accolades.
As for the music, he plays his iconic "Chuck Berry riff" only twice (on the incredible "Big Boys" and the automatic "Lady B. Goode"), which is an improvement on the preceding Rockit's lone instance ("House Lights"). Rockit featured a "Havana Moon" remake, too. Must've really liked "Havana Moon," huh? That's no full-circle thing, though — Berry created sequels (including 1969's 18-minute "Concerto in B. Goode") and hopped around his discography referentially throughout his whole life, treating his own royal compositions as standards even before the Beatles did. "Wonderful Woman" leads everything off as a five-and-a-half-minute tribute to Toddy, the woman he'd been married to since 1948, and his children Charles and Ingrid contribute guitar and harmonica. These touches are requisite for a death statement, but who really knew what was going to turn up on this thing? (All right, we kind of knew what to expect.)
Besides the drums that are louder than any others in his catalog, Chuck is the same kind of bruising, lovingly played batch of songs that Berry offered in steady supply until the resolutely synthesized '80s, which the old rock gods might as well have abstained from in protest. "C'est la vie," say the old folks.
Mic has ongoing music coverage. Follow our main music hub here.