Grenfell Tower Fire Latest Update: London blaze likely killed at least 58, police say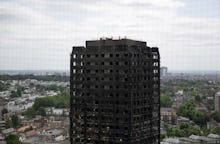 Based on the number of people missing, at least 58 people were likely killed in the Grenfell Tower, London police said Saturday. If true, the Grenfell Tower disaster would be the deadliest fire in London since World War II, Reuters reported.
Cmdr. Stuart Cundy said that number may change, as the number of people who died was originally at 30.
"The figure of 30 that I gave yesterday is the number that I know, sadly, have, at least, died," he said. "So that 58 would include that 30."
The fire has turned out to be a political firestorm for Prime Minister Theresa May. Protesters took to the streets in London with signs demanding "Justice for Grenfell" and declaring "Never again." They took umbrage with May's handling of the disaster.
Though in an upper-class neighborhood, Grenfell Tower housed mostly working-class families. Tenants of the building say they raised concerns about the building's infrastructure before, but that their concerns were dismissed.
According to Reuters, protesters believed May took too long to visit the community, as well. May sidestepped questions about the length of time between the fire and her visit and focused on supporting the victims.
"What I'm now absolutely focused on is ensuring that we get that support on the ground," May said in a BBC Newsnight interview, according to Reuters.
She also pledged 5 million pounds ($6.39 million) of support, housing guarantees and help with access to bank accounts and cash. Those who lost their homes will be rehoused within three weeks, she said.
Criticism to May's response to the Grenfell Tower fire comes only a week after May and her party gambled on a snap election to gain seats in Parliament. Their party ended up losing seats, resulting in a hung Parliament.