'GTA 5' OpenIV mods: Why gamers are flooding Steam with negative reviews for 'Grand Theft Auto V'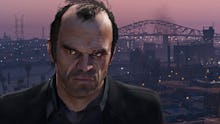 Publisher Take-Two Interactive recently shut down the massively popular Grand Theft Auto modding tool OpenIV, and fans aren't happy about it. This is a huge issue for the modding community, as it essentially has silenced modders who have created some amazing projects for Grand Theft Auto in the past. You've probably played some of them. The shutdown means they're coming to an end, which is bad news bears for fans who've had so much fun making the mods and providing them to others.
Gamers are fighting back in some of the only ways they know how, though: heading to Steam and handing out negative reviews for Grand Theft Auto V. There's also a petition going around.
GTA 5 OpenIV Mods: What's going down
Last month, the developer of OpenIV received a cease-and-desist letter from Take-Two Interactive requesting that the creators of the modding tools "stop immediately any further work and/or distribution of OpenIV and 'Liberty City in GTAV' projects."
After a back-and-forth between lawyers asking for additional information, it was revealed to OpenIV's developer and PC Gamer in a statement that the letter was sent in an effort to cease OpenIV's enabling of "malicious mods" that allows players to be harassed.
That's Take-Two's official statement on the matter, at least, according to PC Gamer. Rockstar also stated that a statement is coming "shortly" on the matter when speaking to PC Gamer on the subject.
Grand Theft Auto mods: Negative reviews for change
At the time of writing, PC Gamer reports that about 21% of over 23,000 reviews of Grand Theft Auto V in the past 30 days on Steam are positive. To put that in perspective, there's also paragraphs upon paragraphs of scathing commentary from fans discussing why Take-Two's recent actions are such a heinous move for the fans and the community. Thumbs-down after thumbs-down reviews populate the pages. You'd be hard-pressed to find several positive reviews in a small cluster, the situation is so dire.
The petition at Change.org by user t0y is cool states that "The closing of OpenIV leaves 10,000s of people without access to be able to mod their games and leaves 10,000s of people without the ability to continue their hobbies." This isn't untrue, but it's a situation that probably won't conclude in favor of modding fans.
We'll continue to monitor the situation as it develops and bring more information as additional statements come out in the next few weeks.
More gaming news and updates
Check out the latest from Mic, like this essay about the sinister, subtle evils lurking in rural America that Far Cry 5 shouldn't ignore. Also, be sure to read our review of Tekken 7 and a piece on the best gaming dads of all time.