Bill Cosby's trial reminds us how hard it is to prosecute sexual assault allegations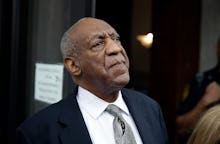 Bill Cosby's trial on three counts of aggravated indecent assault ended in a mistrial Saturday. His attorneys are happy; his wife, Camille Cosby, is ecstatic; and prosecutors have already vowed to try him again.
But the spectacle surrounding Cosby's prosecution and mistrial show just how hard it is to prosecute sexual assaults — and win convictions.
Though more than 60 women have publicly accused Cosby of sexually assaulting them in eerily similar ways over the course of decades, only Andrea Constand, a former Temple University employee who alleges that Cosby assaulted her back in 2004, was able to pursue her case in court. That incident fell within Pennsylvania's 12-year statute of limitations in cases of sexual assault. And while Cosby has been tried relentlessly in the court of public opinion for nearly three years, this was the only hope his many accusers had at holding him criminally liable.
So far, it hasn't worked. The 12-member jury says they were "hopelessly deadlocked." But, statistically speaking, this case has already gotten further than most.
There's one sexual assault every 98 seconds in the United States, according to the Rape, Abuse and Incest National Network. On average, more than 320,000 people are sexually assaulted every year, and even those numbers may be vastly underreported. Out of every 1,000 sexual assault cases, only 13 cases are referred to a prosecutor, and only seven lead to criminal convictions.
Kristen Houser, Chief Public Affairs Officer at AEquitas: The Prosecutors' Resource on Violence Against Women, has spent 25 years advocating on behalf of sexual assault victims. In Houser's experience, sexual assault cases aren't prosecuted as often as they should be, and that's largely because the public remains so misinformed about how assaults actually work.
The jury in Cosby's case asked the judge a series of question that showed just how confused they were by the process. Those questions, captured by Jezebel's Diana Moskovitz, who reported from the trial, included wanting to be replayed parts of Cosby's 2005 deposition and to get a definition of "reasonable doubt."
"So as long as we have a public that remains largely misinformed about sexual assault, it's difficult to have a jury pool that prosecutors feel confident they can work with for most sexual assault cases," Houser said in an interview with Mic, noting that popular depictions of sexual assaults being committed by violent strangers are still what most people think of when it comes to rape. "Most cases are committed between people who already know one another. It's happening within families, within social circles, and it is not a crime that normally has any kind of gratuitous violence. Weapons aren't usually involved. There aren't additional injuries aside from the assault."
Prosecutors, Houser said, only bring cases forth that they feel confident will end in a jury's conviction.
"[These cases] are difficult to prosecute for numerous reasons, but I always start with the fact that district attorneys have absolute discretion in whether or not to bring a case to court," Houser said.
Plenty of ink will be spilled on what went wrong in the Cosby case. But more than likely, Cosby's mistrial is proof that we, as a society, still don't quite understand how and why sexual assault happens. And until that changes, don't expect the criminal justice system to transform, either.