Ray Tensing retrial: Judge declares mistrial in retrial of officer who fatally shot Samuel DuBose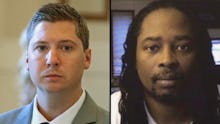 A mistrial was declared Friday in the retrial of former University of Cincinnati police officer Ray Tensing, who was accused of murder and manslaughter in the 2015 shooting death of Samuel DuBose, an unarmed black motorist.
The 12-member jury, made up of three black jurors and nine white jurors, took nearly five days in deliberation, but could not reach a unanimous verdict, the trial judge announced Friday afternoon.
"You took something on that was incredibly difficult," Judge Leslie Ghiz told the jurors, as she thanked them for their service.
Were he found guilty of murder, Tesning would have faced up to life in prison.
On July 19, 2015, Tensing, who is white, shot DuBose after pulling him over for missing a front license plate on his vehicle. The shooting was caught on Tensing's body-worn camera, the footage from which contradicts Tensing's claim that DuBose drove off and dragged Tensing in an attempt to get away.
(Editor's note: The following video contains graphic images.)
The two-week-long proceedings capped the Hamilton County Prosecutor's Office's second attempt at trying Tensing on murder and voluntary manslaughter charges. Jurors seated for a 2016 trial were deadlocked in coming to a unanimous verdict, resulting in the first mistrial.
Tensing's mistrial comes on the heels on last Friday's acquittal of St. Anthony, Minnesota, police officer Jeronimo Yanez, who fatally shot Philando Castile in July 2016. Yanez was charged with manslaughter and weapons charges. On May 17, a jury acquitted Tulsa, Oklahoma, police officer Betty Jo Shelby of manslaughter in the September 2016 fatal shooting of Terence Crutcher.
The DuBose case is among several high-profile police shootings that fueled the Black Lives Matter movement in recent years. Activists in the Movement for Black Lives, a national coalition of grassroots racial and social justice groups, have called for a transformation of policing and its relationship to black communities.