A conservative magazine called the Philando Castile case a "miscarriage of justice"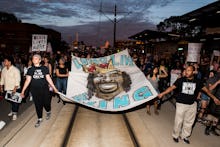 One conservative voice broke rank with the right in speaking out on the Philando Castile case, calling Friday's acquittal of the officer who fatally shot the licensed gun owner in Minnesota a "miscarriage of justice."
"This is unacceptable," National Review correspondent David French wrote about the verdict in a Saturday afternoon edition of its The Corner column. "It represents the most extreme possible deprivation of civil rights and civil liberties," he continued.
Castile, by all accounts, was a law-abiding, licensed gun carrier who had committed no crime prior to being pulled over for a broken tail light on July 6, 2016.
When Castile, who was black, informed St. Anthony, Minnesota, police officer Jeronimo Yanez he was legally carrying a firearm, the officer apparently panicked and fired seven rounds at Castile's car, five of which hit Castile, in front of the man's passenger-side girlfriend, Diamond Reynolds, and her 4-year-old daughter, who was sitting in the back seat.
Castile's girlfriend livestreamed the gut-wrenching immediate aftermath of his shooting on Facebook Live before being forced out of the car and onto the ground by a backup officer moments later, all while her daughter watched.
French broke down a play-by-play of the shooting in his Saturday column before concluding the justice system failed to reach a just outcome against Yanez.
"I'm aware of no evidence that Yanez panicked because Castile was black," the conservative columnist wrote. "But whether he panicked because of race, simply because of the gun or because of both, he still panicked, and he should have been held accountable."
Where's the conservative outrage?
So far, it appears French is unique among conservative media voices in criticizing Yanez's acquittal — despite an initial outcry from prominent right-wing pundits in the Castile shooting's immediate aftermath.
Second Amendment fanatics at the NRA haven't said a word since Friday. Nor has Black Lives Matter critic Tomi Lahren, who in July said the Castile incident appeared to be "unjustifiable."
#PhilandoCastile was among the top 10 trending topics on Twitter Friday, but since then Lahren has spent her time tweeting about her own media mentions, Christmas turkeys, the national anthem, and single mothers stealing Father's Day from men.
Conservative radio host Michael Savage initially said he wanted to march with Black Lives Matter after the Castile shooting video went viral.
Savage, who has called Black Lives Matter supporters "street thugs" and former president Obama's supporters a "private army," hasn't openly criticized the Yanez verdict on his show or social media pages since Friday.
Mic reached out to Tomi Lahren and the NRA and will update this story if they respond.